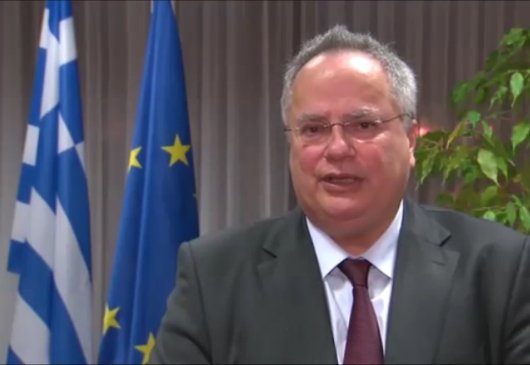 Turkey must be treated as a "nervous power," according to Greek Foreign Minister Nikos Kotzias in statements he made from Brussels on the margins of the Foreign Affairs Council of EU Foreign Ministers.
When the Greek minister was asked to comment on the attitude of Turkey, he said the following: "Here we did not discuss Turkey nor the Aegean". Then he recalled that for the past year and a half he has characterised the neighbouring country as a nervous country that should be treated accordingly. Neither should we overlook this and not take measures that will prevent the manifestation of this nervousness, nor should we exaggerate, because many of Turkey's nervous movements have to do with its interior and its internal confrontation.
Asked if developments are expected in the consultations on Cyprus, Mr. Kotzias said that "it is likely that we have a meeting of foreign ministers, in the second half of March, as far as the guarantors are concerned, the President of the Republic of Cyprus and the representative of the Turkish Cypriot community '.
According to IBNA information Nikos Kotzias will accompany the Greek Prime Minister to Ukraine on 8-9 February, and will then accompany Alexis Tsipras on his trip to Cyprus in coordinating the Greek and Greek Cypriot side for the new round of consultations which seems will take place in early March in Geneva./IBNA