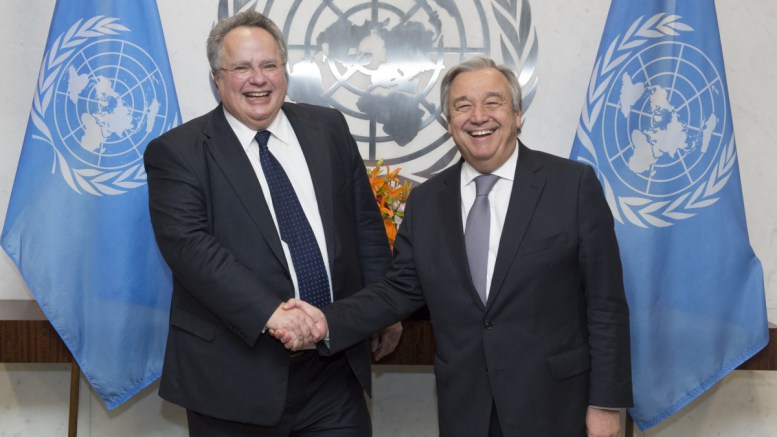 Greek Foreign Minister Nikos Kotzias had a successful trip to the US, only a few hours before the start of talks in Geneva on Cyprus.
Nikos Kotzias who on Friday 6 January was at the UN headquarters in New York,stated that "there were a series of meetings, both with Greek and Greek American organisations as well as with the Jewish lobby."
Concerning the meeting between the Greek Foreign Minister and his Turkish counterpart, Mevlut Cavusoglu held early on Friday morning, Greek-Turkish relations and the Cyprus issues were discussed, with the two Foreign Minister's not coming any closer on the issues at hand.
Nikos Kotzias met with the president of the UN General Assembly and with the UN Secretary-General, where he discussed the Cyprus Issue and Greek views and positions. The head of the Greek diplomacy analysed the reasons why the guarantees system should be abolished, the absence of intervention rights for any country over Cyprus and the need to remove foreign troops, first and foremost the Turkish occupation troops.
During his one-day visit Nikos Kotzias also met a large part of the new Trump government. He met with National Security Adviser, Mr. Michael Flynn and his deputy. He met the  US President's chief of staff and a number of Greek-Americans that are close to his staff.
According to information from diplomatic sources, Mr. Flynn, was informed by the Greek Minister on developments concerning the Cyprus issue, the situation in the wider region of the Eastern Mediterranean in the Middle East and North Africa. Flynn was also briefed on the Greek government initiatives for the tripartite cooperation achieved in the area as well as the Rhodes Summit, as a key issue for wider cooperation between the EU and the Arab world, in the spirit of Rhodes.
According to information from diplomatic sources in the UN, Turkish Prime Minister Binali Yildirim will attend the conference in Geneva on behalf of Turkey, whilst efforts continue on the part of the United Nations for the participation of Turkish President Recep Tayyip Erdogan./ΙΒΝΑ