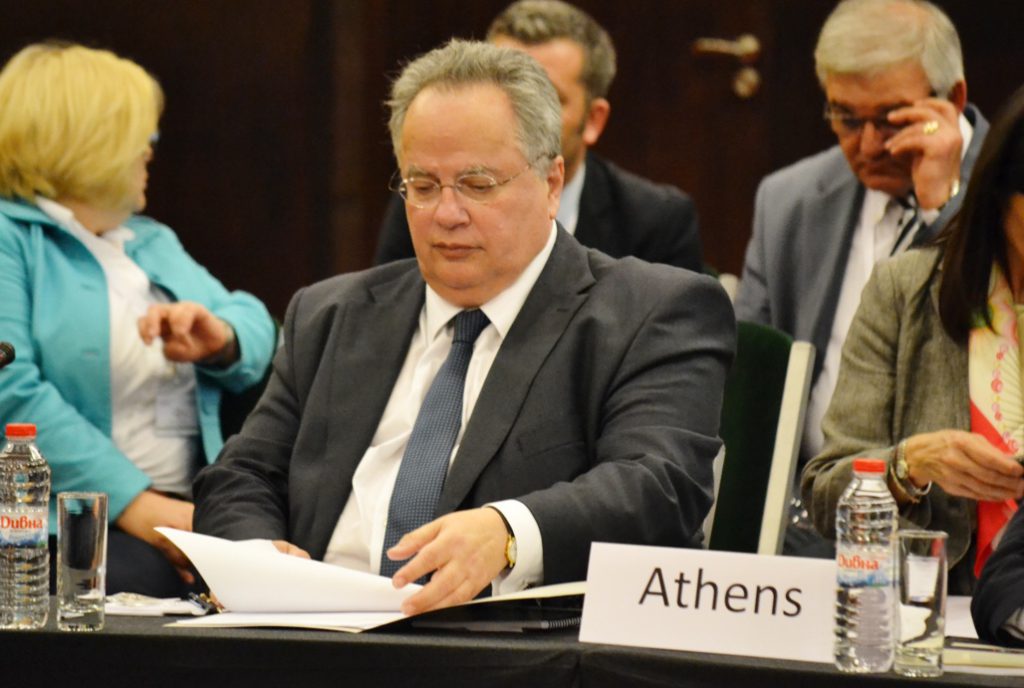 Greek Foreign Minister, Nikos Kotzias will participate in the Foreign Affairs Council, which will take place on Monday, December 6 in Brussels.
Egypt and the Western Balkans are the two major issues on the agenda that are of Greek interest.
According to diplomatic sources the Council will play an important role in the strengthening of EU – Egypt relations as the Egyptian Foreign Minister Sameh Shoukry, will participate in the EU Foreign Ministers, working lunch during which common strategic objectives, deepening relationships, and the strengthening of security in the wider region will be addressed.
According to sources this development undoubtedly justifies Greek foreign policy over the past two years. There has not been a single EU Council of Ministers in which the Greek Foreign Minister has not insisted on the need to support Egypt and strengthen EU – Egypt relations. Greece is well aware of what happens in its neighbourhood and Greek strategy in the eastern Mediterranean is made up of a key element which is shared by those who can understand regional security architecture; the need for stability in Egypt, at all costs.
The Greek Foreign Minister's references over the past two years to maintain internal political stability in Egypt were not made by chance. If Egypt which has a population of over 90 million people descends into chaos, today's challenges – terrorism, extremism, refugee flows – will be nothing compared to what will follow. Therefore the more the country is stabilised, the more human rights will be protected.
According to sources, during the Council's meeting political developments in the Western Balkans, and EU High Representative for CFSP, Ms Federica Mogherini will inform Member States about her recent visit to the region. Athens knows what is happening in the Western Balkans firsthand. A combination of factors, including ethnic differences, the electoral cycle and internal political instability in several countries, but also chronic transboundary scourges like drug and human trafficking, are creating a wave of destabilisation that is causing concern.
However, Greece is once again serving as the breakwater of destabilisation, passing a message of stability and determination in all directions so that a security "black hole" is not created at its northern border and that peace in the region is not disturbed in any way.
According to diplomatic sources during the Foreign Affairs Council the results of the Senior Officials Meeting held last February concerning the strengthening of cross-border cooperation for the proper management of migratory flows in the Eastern and Central Mediterranean will also be presented. Emphasis will be given on agreements with third States arising both from Asia and from Africa. This discussion is part of the preparations for the forthcoming European Council to be held on March 9.
Finally, during the Joint Meeting of EU Foreign Ministers and Defence Ministers the implementation of the Global Strategy and efforts to strengthen the EU's Common Security and Defence Policy will be discussed and evaluated./ΙΒΝΑ