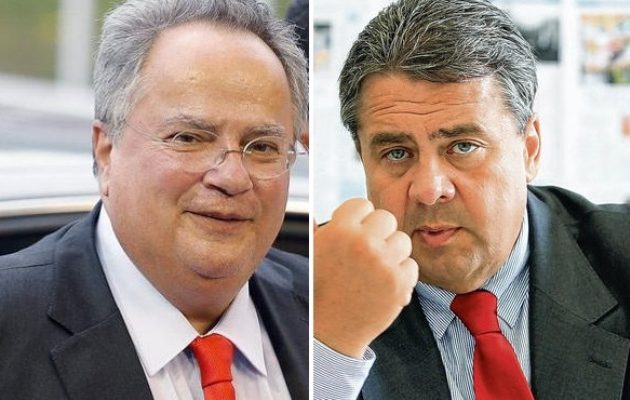 Greek Foreign Minister Nikos Kotzias will meet the Vice Chancellor and Foreign Minister of the Federal Republic of Germany, Mr. Sigmar Gabriel tomorrow, Thursday, March 23, 12:30 (local time) at the Greek Foreign Ministry.
According to diplomatic sources the talks will include the strengthening of Greek-German cooperation at political level, but also the implementation of the Joint Action Plan, signed during the visit of former German Foreign Minister Frank-Walter Steinmeier, on the economic, commercial and cultural fields.
Kotzias and Gabriel will discuss developments on the Cyprus issue and relations with Turkey and the political situation as well as developments in the Western Balkans.
The two ministers will also discuss the challenges facing the European Union, such as Brexit and the need to redefine the vision of a united Europe in the 21st century. The Union's external relations with key players on the world stage, such as the US and Russia, as well as tackling extremism and radicalisation will also be a topic of discussion between the two European partners.
Mr. Kotzias will inform the head of the German diplomacy on Greece' positions and Greek foreign policy initiatives for security and stability in the Eastern Mediterranean. Following their meeting the two Ministers will make joint statements to the press. The Foreign Minister will then host a working luncheon in honour of his German counterpart.
On Wednesday, March 22 Greek Prime Minister, Alexis Tsipras will host a dinner for Mr. Gabriel and on Thursday morning, the German Foreign Minister will be received by the President of the Republic Mr. Prokopis Pavlopoulos./IBNA