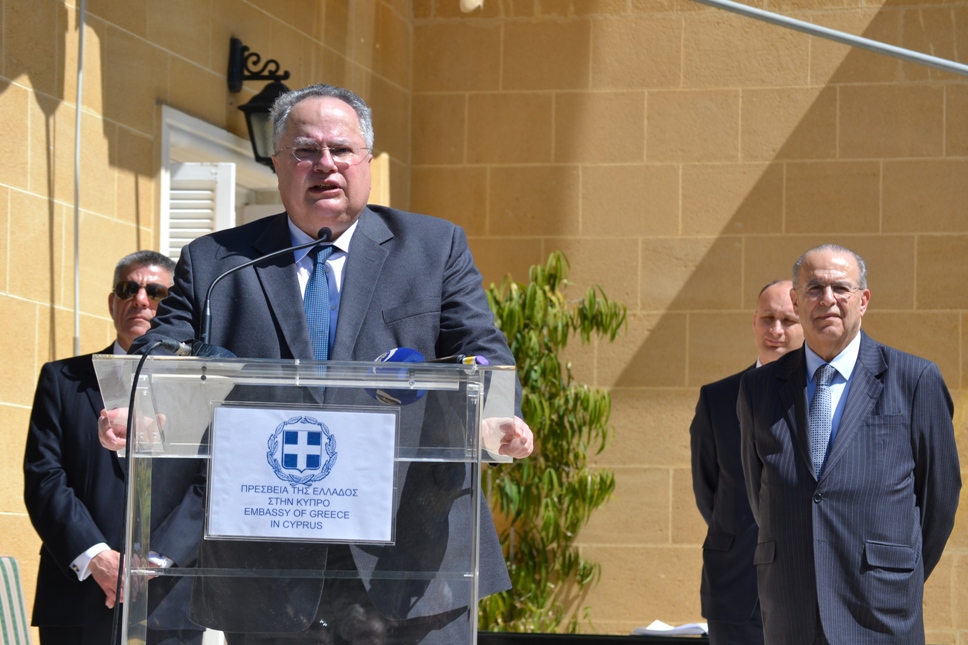 Representing Greece at the Nicosia schools and veterans parade marking the March 25 anniversary of the 1821 Greek revolution against Ottoman rule, Foreign Minister Nikos Kotzias on Saturday said to the journalists, that he deeply moved to be there.
Cyprus is "emotion, love and hope," the Greek foreign minister said, adding that "we must all protect Cyprus, support and embrace its people."
"Together we can solve the problems that exist," Kotzias said.
Also among the officials that attended the parade before the Greek Embassy in Nicosia were Cyprus Foreign Minister Ioannis Kasoulides, Cyprus Archbishop Chrysostomos, the Greek ambassador in Nicosia and Cyprus' political and military leadership.
Then the Greek FM speaking at reception held by the Greek ambassador to Cyprus Ilias Fotopoulos for the March 25 national holiday, when Greeks celebrate their struggle for independence from Ottoman rule, said that Greece and Cyprus need to be united in the struggle for a just and viable solution to the Cyprus issue.
It was necessary to be able to "think ahead" and see the future, Kotzias said, noting that "we have a right to dream of that which reflects the wishes of our people." It was necessary to consistently demand what was fair and right, not just for the Greek side but also for the others, he added.
"We are consistently striving so that all Greek-Cypriots feel secure on the island to the greatest possible degree," he said, while noting that the Turkish-Cypriots, Armenians, Maronites and Latins must each also enjoy the maximum possible rights.
Greece's stance toward Cyprus, Kotzias said, was a "historic duty, a duty of feeling, a duty of logic and a duty of culture."/IBNA
Photos: IBNA/Spiros Sideris