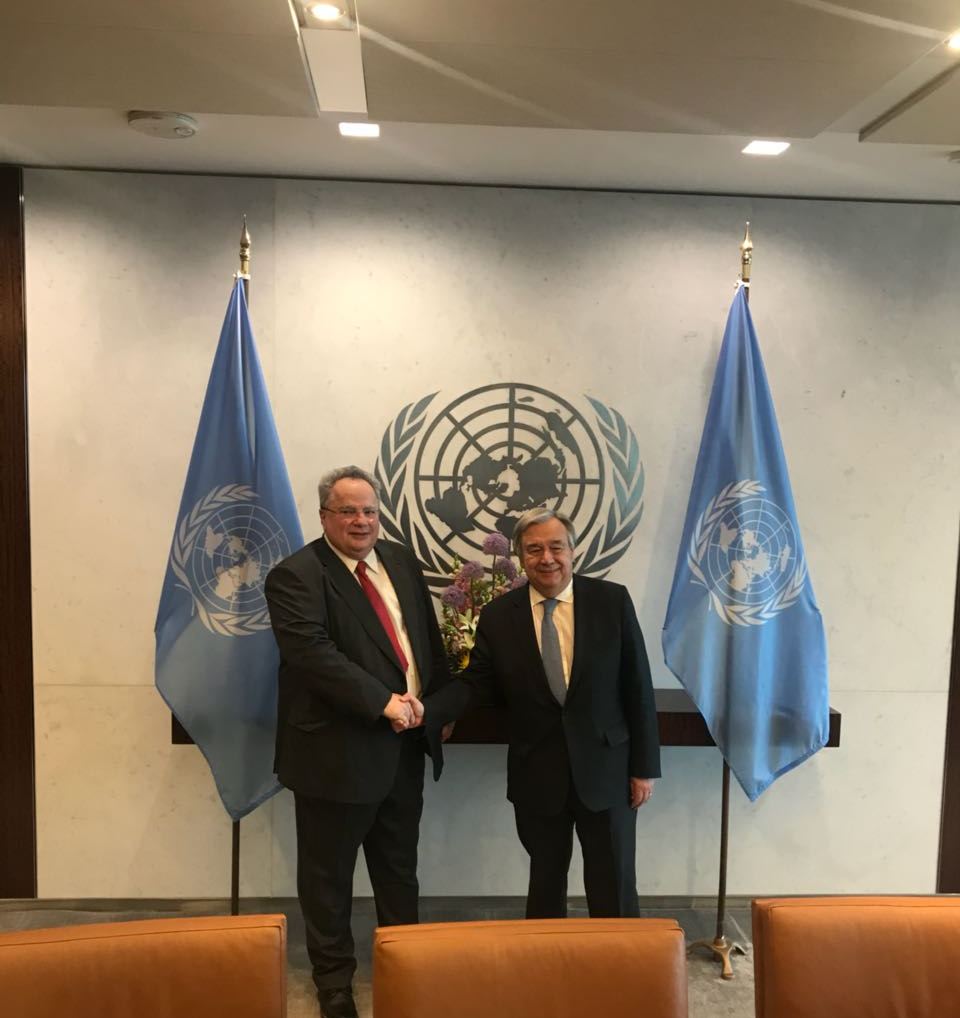 UN Secretary General Antonio Guterres met Greek Foreign Minister Nikos Kotzias in New York on Wednesday, May 23.
The issues on the agenda were the Cyprus issue and the forthcoming negotiation as well as the negotiation on the fYROMacedonian name issue.
As Nikos Kotzias pointed out after his meeting with the UN Secretary-General, Antonio Guterres's proposal for a Special Adviser on the Cyprus issue has not yet been accepted by Turkey, something that remains to be confirmed.
On the Greek side, the Greek Foreign Ministry noted that "I do not know the Councilor, but I have confidence in his choices and his judgment." He stressed that "we will not start negotiations before the Turkish elections and before we finish with others. We can not do it all at the same time."
As for the difference in the name issue with fYROMacedonia, Nikos Kotzias said he is willing to find a solution. Regarding the end of the negotiation path, the other side says remains to show it tomorrow, meaning the May 24th meeting between the two Foreign Ministers and the UN Special Envoy, Matthew Nimetz.
Without saying he is either optimistic or pessimistic, Nikos Kotzias noted that in order to reach a solution "the other side must also show pragmatism and realism in finding a solution. Solutions are also the compromise solutions. I know that many forces in both societies would prefer solutions as they please, but there are no such solutions in international relations."
Regarding the meeting on the 24th of May, the Greek Foreign Ministry noted that the continuation of the negotiations will take place in two parts. The negotiation of the two Mministers on central political issues and the negotiation of the experts on the other issues that exist and concern the general agreement and the legal issues, agreed and recorded in the text submitted by the Greek side.
Nikos Kotzias pointed out that the issue of the name remains open, while putting all the proposals that have been made together is already underway. 
Reviewing his official visit to Washington and the contacts he had, the Greek Foreign minister pointed out that in the three and half years that he is well aware of, Greece has upgraded its position on the international scene. "Everyone knows that he is an international player who takes initiatives in the region, leaves its mark on the region and therefore its importance for all the powerful players of this world is growing", Nikos Kotzias concluded…. / IBNA