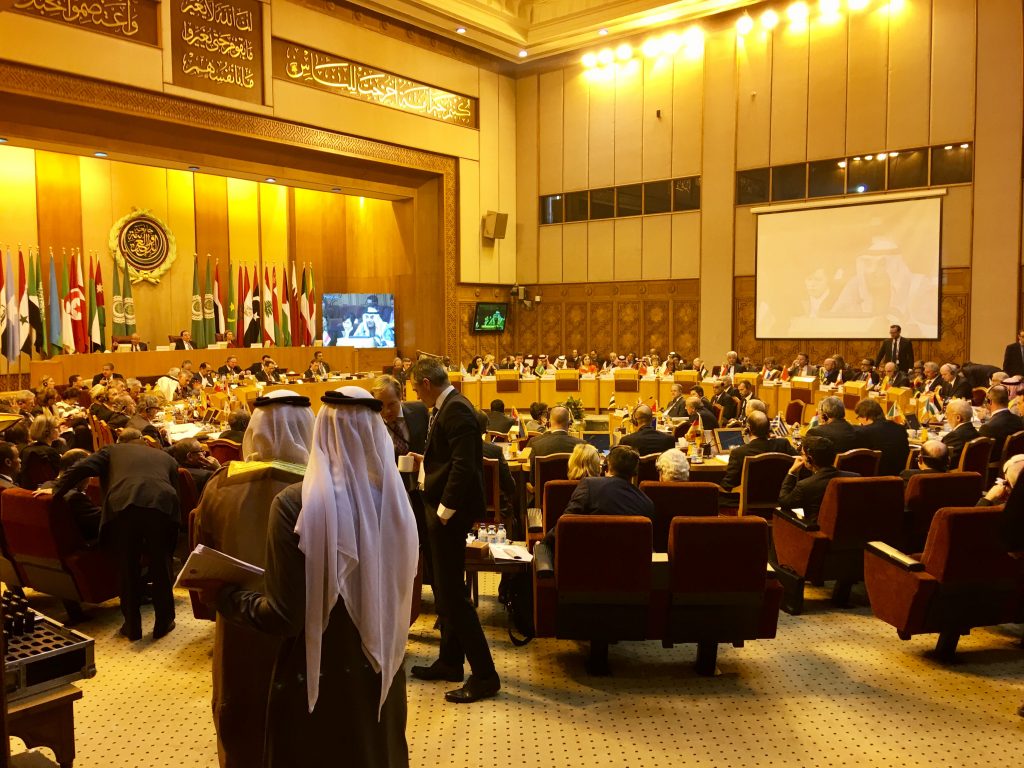 As part of the EU-Arab League Summit  held in Cairo, Greek Foreign Minister. Nikos Kotzias, met  with the Secretary General of the Arab League, Mr. Ahmed Aboul-Gheit on Tuesday.
During the meeting, Mr. Kotzias referred to the close and century – long bonds of friendship between Greece and the Arab countries and stressed the importance of broadening and intensifying cooperation between the European Union and the Arab League. He also stressed the fact that Greece acts as a bridge linking Europe with the Arab world and expressed the desire of further strengthening relations between the two sides, extending an invitation to the Secretary General of the Arab League to visit Athens.
 The discussion focused on issues of regional and international interest, particularly on the situation in Syria, Libya and Yemen. In particular, Mr. Gheit expressed concern about the developments in Yemen, stressed the need to respect Libya's territorial integrity and described the decision of reopening the Greek Embassy in Tripoli as a step in the right direction. At the same time, he welcomed the Greek stance as to the management of the refugee / immigration crisis and underlined the need to further intensify the cooperation between Greece and the European Union with the Arab states.
The Greek Foreign Minister also met with his Tunisian counterpart, Mr. Khemaies Jhinaoui, whose country holds the presidency of the Arab League.
The discussion focused on international and regional issues, providing Mr. Kotzias with the opportunity to present Greece's initiatives in the strengthening of regional stability and the promotion of peace in the region. In particular, Mr. Kotzias briefed his interlocutor on the "Rhodes Conference decisions" and the spirit that describes this initiative, through which it seeks to develop positive cooperative actions between the European Union countries and the Eastern Mediterranean, in various fields, such as culture, education, research and matters concerning young people.
During the meeting the bilateral relations were also discussed and the need to follow up the decisions taken at the recent Joint Interministerial Greece-Tunisian Committee was made known. Moreover, the two Foreign Ministers exchanged invitations and agreed to conduct the scheduled meeting between the Political Directors of the Foreign Ministries.
Furthermore Nikos Kotzias had a brief meeting with the Foreign Minister of Iraq Dr. Ibrahim Abdul-Kareem Hamza Al-Eshaiker Al-Jaafari, during which they discussed regional developments and the major issues in the region and reaffirmed the disposal of the Greek Minister to visit Iraq in the near future.
 During the day the Greek Foreign Minister is schedule to make a speech on: Stability and Security in the wider MENA region while the Cypriot Foreign Minister Ioannis Kasoulides will discuss EU-LAS relations
Participating countries and their representatives are:
Austria, Deputy Minister for Foreign Affairs, Amb. Michael Linhart,
Belgium Minister of Foreign Affairs Didier Reynders,
Bulgaria Middle East and Africa Director at the MFA Nikolay Nikolov,
Cyprus Minister of Foreign Affairs Ioannis Kasoulides,
Czech Deputy Minister of Foreign Affairs Václav Kolaja,
Germany State Secretary at the Federal Foreign Office Markus Ederer ,
Denmark Political Director Jesper Moller Sorensen,
Estonia Minister of Foreign Affairs Sven Mikser,
Greece Minister of Foreign Affairs Nikos Kotzias,
Spain Minister of Foreign Affairs and Cooperation Alfonso Dastis,
Finland Secretary of State Samuli Virtanen,
France State Secretary Harlem Désir,
Croatia State Secretary Marija Pejčinović-Burić,
Hungary Minister of Foreign Affairs & Trade Péter Szijjártó,
Ireland Ambassador Damian Cole,
Italy Director for the MENA Giuseppe Perrone,
Lithuania Ambassador Arvydas Daunoravičius,
Luxemburg Minister of Foreign Affairs Jean Asselborn,
Latvia Ambassador to Egypt Iveta Sulca,
Malta Minister of Foreign Affairs George Vella,
Netherlands Minister of Foreign Affairs Bert Koenders,
Poland Minister of Foreign Affairs Witold Waszczykowski,
Portugal Secretary of State for Foreign Affairs and Cooperation Teresa Ribeiro,
Romania State Secretary Daniela Grigore Gitman,
Sweden Deputy Minister for Foreign Affairs Annika Söder,
Slovenia State Secretary at MFA Darja Bavdaž Kuret,
Slovakia Minister of Foreign Affairs Miroslav Lajčák,
United Kingdom Director General for Middle East and Africa Christian Turner
And High Representative of European Union for Foreign Affairs and Security Policy Federica Mogherini