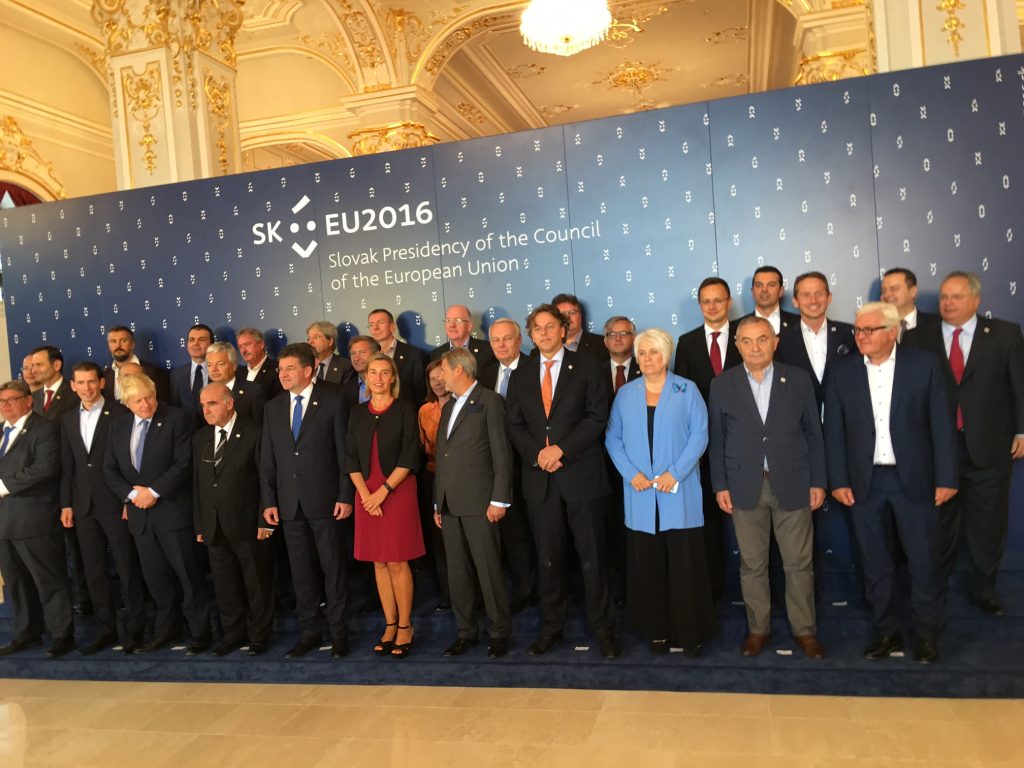 Bratislava, September 3, 2016/Independent Balkan News Agency
By Spiros Sideris
The solidarity of Greece to the Turkish people and the need for calm and sobriety in dealing with the coup, and more generally of the situation after the failed coup in Turkey, noted the Greek Foreign Minister Nikos Kotzias in his speech this morning at the informal meeting of EU Foreign Ministers with the Turkish Minister for European Affairs Omer Celik in Bratislava.
Mr Kotzias analyzed the consequences should the coup had succeeded, which the Greek Government condemned from the start. At the same time, he underlined – based on our own experience and what it taught us from the Greek case of 1974, as he said – the importance that democratic means have at this moment and respect for the rule of law so as "not to create new chasms which we would find in front of us in the future".
"What is needed when there is a coup", explained the Foreign Minister, "is to deal with it from the perspective of the defence of democracy, democratic institutions and not from the scope of punishment and the maintenance of power, because one can similarly be driven to authoritarian methods".
Mr Kotzias welcomed the launch of reforms in Turkey, regarding the army-police force, and the role of the army so that there is no ground for new coups in the future, and added referring to Gulen, that "it appears they were also defeated to a degree the efforts to impose religious beliefs on the state".
Referring to the EU's stance regarding the failed coup in Turkey Mr Kotzias noted that there should be "a strategy to maximize Democracy throughout the region", stressing that "from the events in Turkey and the events in Egypt it appears that there is an overall issue concerning the dissemination of Democracy, as well as the importance of stability and security in the region". "That's why we are organizing the Conference on Security and Stability in Rhodes", he said.
Finally, the Foreign Minister referred to Syria the problem at the Greek borders, concerning the refugee-migration issue.
The informal meeting of EU Foreign Ministers was concluded by discussing with their counterparts both the candidate countries for accession and the Eastern Partnership countries (Armenia, Azerbaijan, Moldova, Ukraine, Belarus, Georgia) on the prospects of deepening bilateral cooperation between the EU and the eastern partners, which is ongoing.