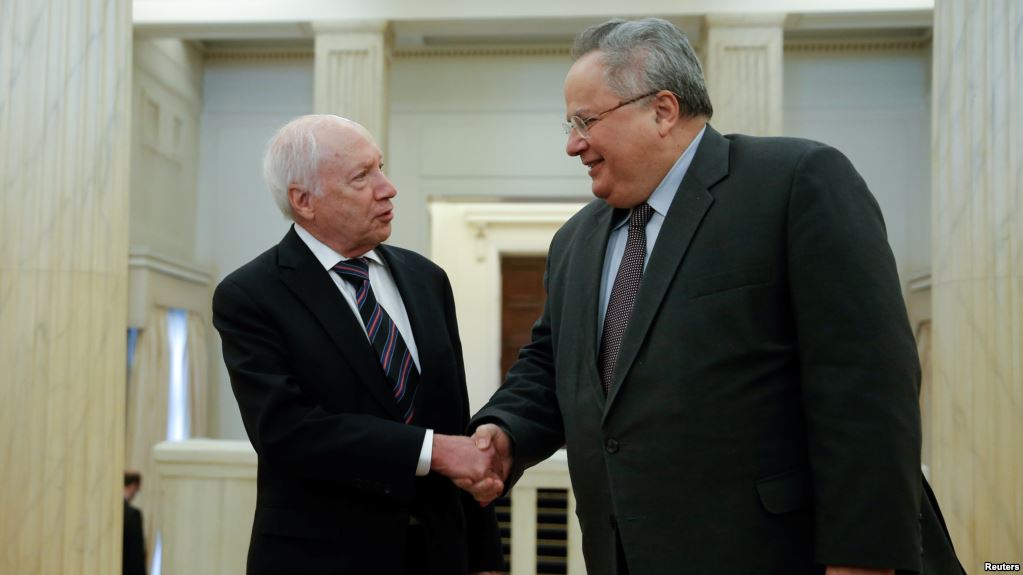 Greek FM, Nikos Kotzias spoke to reporters after his Athens meeting with the UN envoy Matthew Nimetz who is being handling negotiations on the name issue between Athens and Skopje.
From his point of view, they had a creative and constructive meeting during which the Greek Foreign minister explained what the name should contain according to Athens and which points he considers should be changed, while, at the same time he offered Nimetz alternative solutions.
Kotzias stressed all parties need to remain focused on the resolution of the problem and have faith in the positive outcome of the talks. "I will leave the rest to those wishing to criticise (the situation) without reason".
Asked about a possible meeting with his fYROMacedonian counterpart, Nikola Dimitrov and whether fYROMacedonia is aware of the agreement, the Greek minister said he would not see him now but instead after Greece has a proposal ready to be presented.
"The other side (Skopje) knows about the agreement but we are still working on its content. We have made no announcement yet. The proposal will be ours, but they will have the opportunity to suggest otherwise and make alterations. It is not a 'take it or leave it" agreement but rather a proposal for discussion and dialogue, that could ease the negotiation", the minister said.
The Greek politician clarified there is no certain time limit ahead of them and believes that the sooner the agreement is ready and ratified, the better; however, he did note that it still needs a lot of work. It will depend on whether Greece's proposals are sensible and the other party accepts them or whether talks should re-start from zero.
"In case we do not reach an agreement, we will continue with the talks. This is something we had already made clear and, regardless of other factors, so that the procedure to reach a deal would not become complicated in connection with countries such as Albania and fYROMacedonia, so as not to be affected by the Greek elections of 2019…", Kotzias added.
Asked about Nimetz and his opinion on the agreement, the Greek FM said that the former "is a very capable interlocutor who always finds our new proposals very interesting"…/IBNA