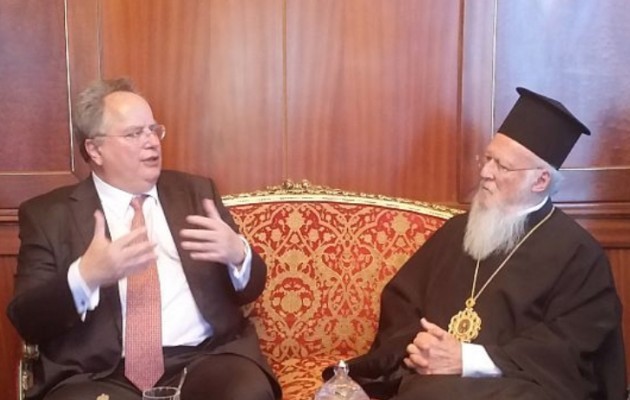 Athens, May 12, 2015/ Independent Balkan News Agency
By Spiros Sideris
The promotion of confidence-building measures (CBMs) to make it possible to begin exploratory talks on issues that have been pending for a long time, such as the continental shelf in the Aegean, but also further development of economic cooperation between Greece and Turkey, as well as fundamental strategic issues of both countries, will be the focus of discussion of the Greek Foreign Minister Nikos Kotzias, with Turkish Prime Minister Ahmet Davutoglu and his Turkish counterpart Cavusoglu during his official visit in Turkey on Monday.
That's what Kotzias said in an interview with the correspondent of the Turkish state television TRT in Athens Nterya Koseoglou.
Kotzias stressed that the Greek government has a "real will, to solve problems, not in words and clinch the friendship that exists between two peoples".
Referring on the agenda of the talks, he said that discussion will revolve around the fundamental strategic issues of both countries, as weel as in economic issues, stressing that "we must open the way to cooperation in the fields of culture and education", which would be" of great interest of Greece and Turkey and will ensure the stability and security in the region, especially in Southeast Mediterranean".
He also stated that "within a triangle of instability", Turkey and Greece are two countries that are interested in maintaining and enhancing stability and security in the region and added:
"In this context, I think, will we also discuss issues relating to the resumption of negotiations in Cyprus".
The Foreign Minister explained that "Cyprus should become a normal state – a member of the EU and develop good and productive relations with Turkey and Greece. If there is a viable solution, then the Turkish side and the Greek side I think will support the creative development of the Republic of Cyprus".
Bartholomew: We support the work of the new government in Greece
The Greek Foreign Minister also visited the Ecumenical Patriarchate on the sidelines of his visit to Turkey, where he will hold contacts in Istanbul and Ankara, while he will also participate at the NATO summit in Antalya.
Bartholomew wished Kotzias to promote the "good relationships with integrity, honesty and respect for international law between Greece and Turkey".
He also wished for the contacts the minister will have in Turkey to be successful, adding that "we support the work of the new government in Greece".
After the meeting, the Foreign Minister, referring to the mission of the Ecumenical Patriarchate, spoke of "a balm to the soul of the Greeks". He emphasised the dialogue promoted by the Patriarchate with courage, prudence and wisdom, with other Churches".
The Ecumenical Patriarch "gave his support for the meeting to be held next autumn in Athens to protect Christian populations in the Middle East", Kotzias said.
The Patriarch expressed his satisfaction for the meeting and spoke of a "wholehearted support of the minister and the Greek government to the Patriarchate".
"It is strengthening and encouragement to us to have the solidarity of the Greek government", he said.