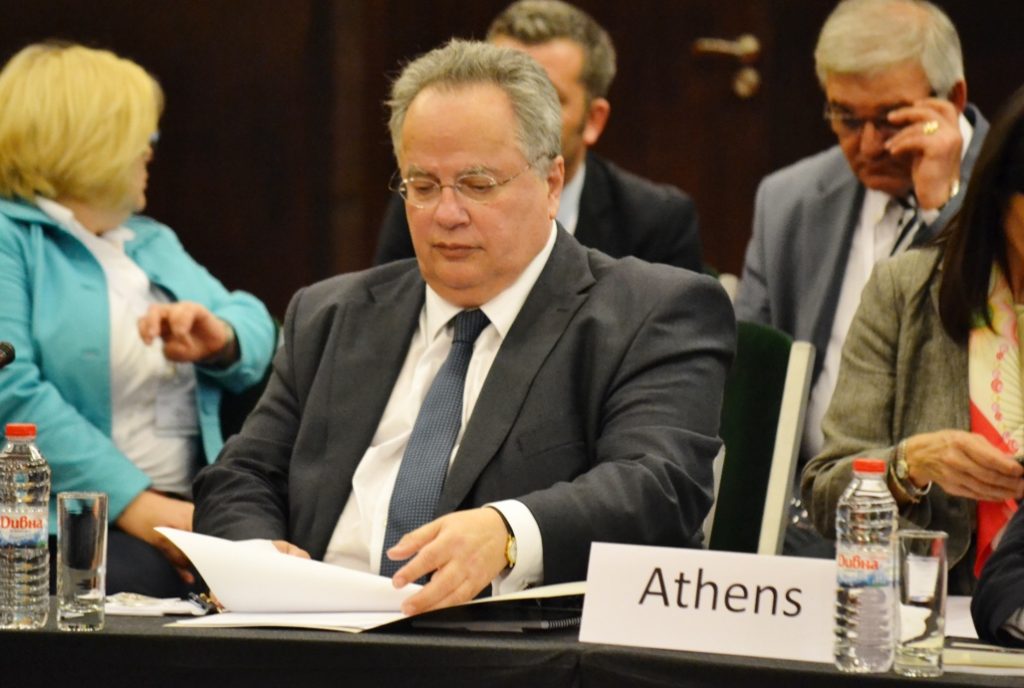 Greek Foreign Minister Nikos Kotzias will be in Brussels on Monday and Tuesday to participate in the EU Foreign Affairs Council (FAC) and in the EU General Affairs Council (GAC).
The FAC agenda includes EU-Africa relations and the main parameters of the issue of managing mixed migration flows, with emphasis on the EU's cooperation with migrants' countries of origin.
The GAC is expected to focus on issues concerning EU enlargement and the stabilisation and association agreements with third countries, particularly with Albania, FYROM, Serbia and Turkey, while there will also be a discussion of the preparations for the upcoming meeting of the European Council (15-16 December).
The FAC will start at 10.30 with a debate on EU-Africa relations. The discussion is intended to guide the joint communication on EU's strategic objectives and priorities in its relations with Africa, which is due to be presented in April 2017. Ministers will also have a first exchange of views on the orientation of the next EU-Africa Summit which will be held in autumn 2017.
Ministers will also discuss the situation in the Democratic Republic of Congo, in view of the latest developments. The Council is expected to adopt conclusions on South Sudan.
Over lunch, ministers will follow up on developments in Syria since its last discussion at the Foreign Affairs Council meeting on 14 November 2016.
During the working luncheon, the Foreign Ministers will focus on the humanitarian situation in Syria, while Mr. Kotzias will present Greece's positions on the management of the Syrian crisis, and first and foremost the need to end the hostilities.
Ahead of the European Council on 15 December, the Council will discuss migration, focusing on the implementation of the Valletta commitments. It will also look at progress made in the partnership framework approach and country-specific compacts. After the Council meeting, ministers will have an informal discussion with President Santos of Colombia. This will be followed by the signature of the constitutive agreement of the EU Trust Fund for Colombia.
Furthermore ahead of the meeting, the EU and Cuba will sign the Political Dialogue and Cooperation Agreement.
Ministers will finalise preparations for the European Council on 15 December 2016 by discussing draft conclusions.
The Council will discuss the 2016 enlargement package presented by the Commission in November. It will be called on to adopt conclusions on Enlargement and the Stabilisation and Association Process. The Slovak Presidency will inform the member states on the state of play of the mid-term review of the multi-annual financial framework 2014-2020.
Ministers will be invited to approve a joint declaration of the Council, the European Parliament and the Commission that sets out the EU's main priorities for 2017.
Finally, the Commission is expected to inform the Council about the annual growth survey package for 2017, which launches the European Semester, the annual cycle of economic governance in the EU. It sets out general economic and social priorities for the EU and gives member states policy guidance for the following years./ΙΒΝΑ