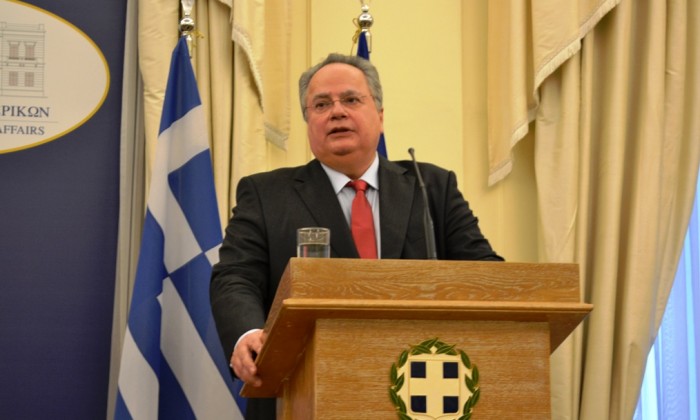 Athens, October 7, 2016/ Independent Balkan News Agency
By Spiros Sideris
Greek Foreign Minister Nikos Kotzias gave a stern reply to right wing opposition New Democracy MPs concerning the Cham Issue and called statements made by the party the "reproduction and adoption of lies and inaccuracies".
Kotzias stated that "The New Democracy MPs are open to a continuous and uncritical adoption of the lies and of the inaccuracies of the Albanian government at the expense of Greek foreign policy, including those made for petty domestic considerations in Albania.
The Greek Foreign Minister stressed four points:
"Firstly: Greece, at least the current Government, never accepted that there is any so called Cham Issue.
Secondly, the Greek Foreign Ministry gave the Albanian side an informal text of the problem areas that needed to be solved in the Greek-Albanian dispute. The only reference made to the non-existent problem is that it has already been decided by the Greek courts.
Thirdly, Greece informed the European Commission concerning the above, in this way clarifying the 'Greek red lines'. It is in the least nonsense, for these red lines to appear as an internationalisation of a non-existent problem, for which Greece supposedly is asking the Commission's mediation. It was a New Democracy MEP who in fact took this matter abroad.
Fourthly, information concerning the 'red lines' was a preventive measure because the Cham party participates in the Albanian Government, something which the Greek government condemns.
Kotzias stated that "New Democracy MPs are once again seeking to destroy the country's foreign policy as well as the attempt to solve outstanding issues amicably – the Cham issue of course is not included". He added that this was not the first time "Let me remind you of the attack I accepted from an MP because I raised the question of the abolition of the guarantees and the removal of turkish occupation troops from Cyprus", he said.
Finally Nikos Kotzias concluded that "We would expect a more responsible attitude from members of the opposition, especially when discussing sensitive national issues".