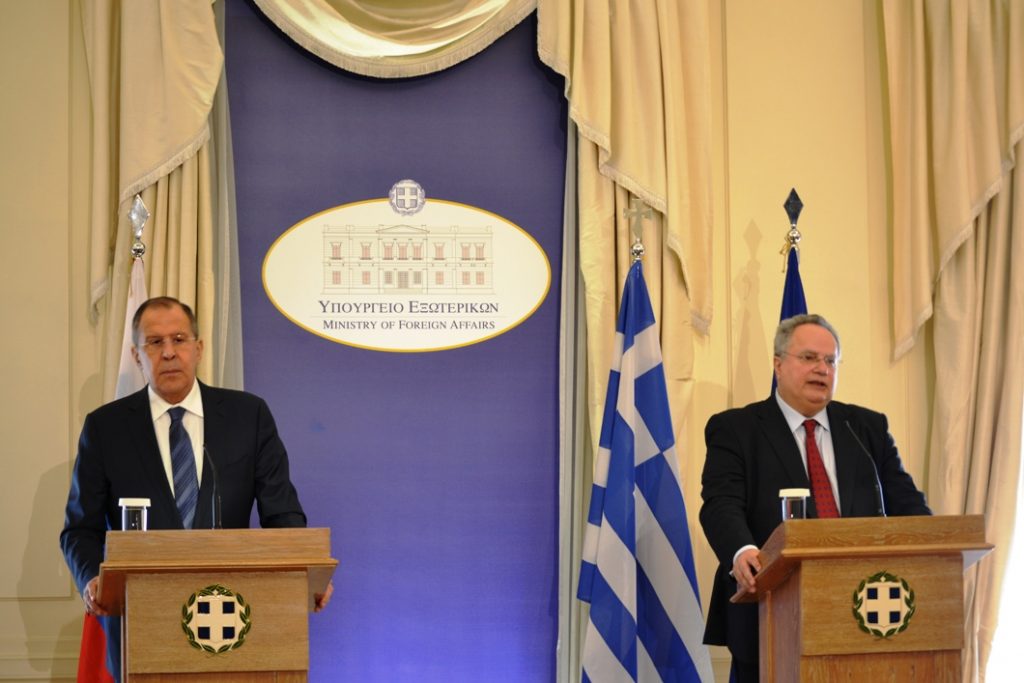 Russian Foreign Minister Sergey Lavrov and Greek Foreign Minister Nikos Kotzias on Wednesday expressed their mutual intention to promote deeper bilateral relations and political dialogue based on mutual trust between Greece and Russia, during a joint press conference in Athens.
During the bilateral talks the two ministers discussed all pending issues, the Cyprus issue, the war in Syria, the Balkans, the refugee crisis, EU and NATO Russia relations as well as the situation in the Middle East and North Africa.
Sergey Lavrov and Nikos Kotzias, sent their own strong messages, Lavrov to the West and Kotzias to the neighbouring countries.
"To respect international law derived from international agreements" was the Russian FMs request while Nikos Kotzias noted that "History should be a school, not a prison" and added that "One should face history with respect and not contempt, as it is in reality, and not with a mythology created after the fact".
After the signing of the Consultation Program of the two Foreign Ministries for 2017-2019, which illustrates the close ties between Russia and Greece and confirms the long-term cooperation plan, Kotzias and Lavrov gave a joint press conference.
During the press conference, Sergey Lavrov, said on his part that as far as the Cyprus problem is concerned, the UN resolutions must be implemented, and only this is the configuration framework for a stable and acceptable solution for both Greek and Turkish Cypriots, while Nikos Kotzias thanked the public and his Russian counterpart for Russia's firm position in support of the Republic of Cyprus.
Concerning Russia's relations with the EU and NATO, the Greek Foreign Minister, noted that the European security architecture needs to include Russia, while Sergey Lavrov praised Greece's stance regarding Russia's relations with the EU and NATO, noting that Greece was always in favour of dialogue and the search for solutions rather than conflict.
The long-term cooperation planning between the two countries, a climate of friendship, mutual trust and respect for the positions of each side became clear in the statements of the two FM.
The two ministers generally discussed the issues of Greek and Russian foreign policy on the Middle East, North Africa, and Libya, which supported the need to operate the national unity government with success, while convergence of views was expressed regarding "the need to follow a policy of stability for Egypt." "a policy that understands that blind destabilization of countries like Egypt will fuel large refugee and immigrant currents which will be beyond what we have seen to date," Kotzias stated.
Greece, is going through a volatile time for the Eastern Mediterranean and the Balkans, but it's working for peace, cooperation and unity with a series of initiatives, said the Greek Foreign Minister, concluding that "Greece is a strong country, despite the crisis and it has a special responsibility to contribute to peace and stability in the region "/IBNA