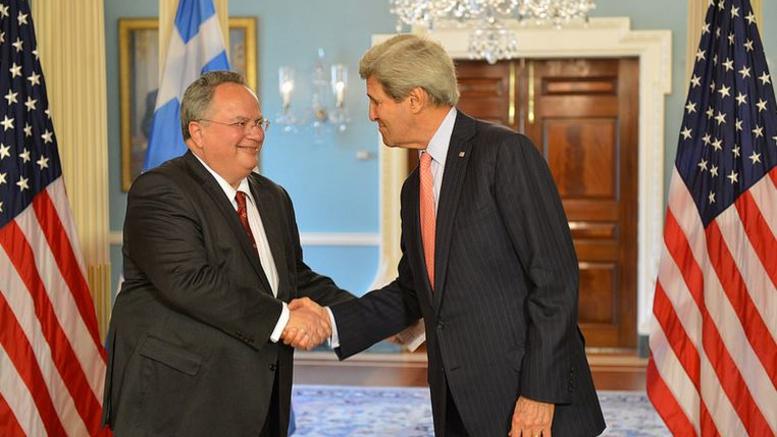 Athens, April 21, 2015/ Independent Balkan News Agency
By Spiros Sideris
To the strong ties between the US and Greece referred the US Secretary of State John Kerry welcoming his Greek counterpart at the State Department on Monday evening.
Noting that "this is a time of challenges", Kerry talked about "the sacrifices that the Greek people have been asked to make, due to the challenges the economy is facing", as well as "the challenges of terrorism and the fight against it" and expressed his "confidence in the ability of Greece to make reforms and manage to chart a new course".
In regard to Ukraine, Kerry hoped to maintain "a strong USA-Europe cooperation in relation to our support to Ukraine", stressing the "need to encourage Russia in any way to comply with the Minsk treaty, to contribute to peace in the region and also", he added "to work on longer-term challenges such as the supply and diversification of energy in the region".
The American foreign minister also referred to the importance of joint efforts to combat terrorism, expressing the concern of the US government and its position that "those who committed terrorist acts and are in prison, should remain in prison".
Kerry concluded: "We hope to work on all policy matters because the relationship we have is so important that obviously we wish to the new government – in these challenging moments – to do well and we look forward to being supportive".
"I am here", replied the Greek Foreign Minister "as a friend with someone who works with us for democracy and peace, against terrorism and hope our relationship to promote further cooperation".
"I believe", Kotzias added that "we can be sure that the new law for the prisoners will not leave any terrorist free; it will only be a change of imprisonment mode and no one will be set free".