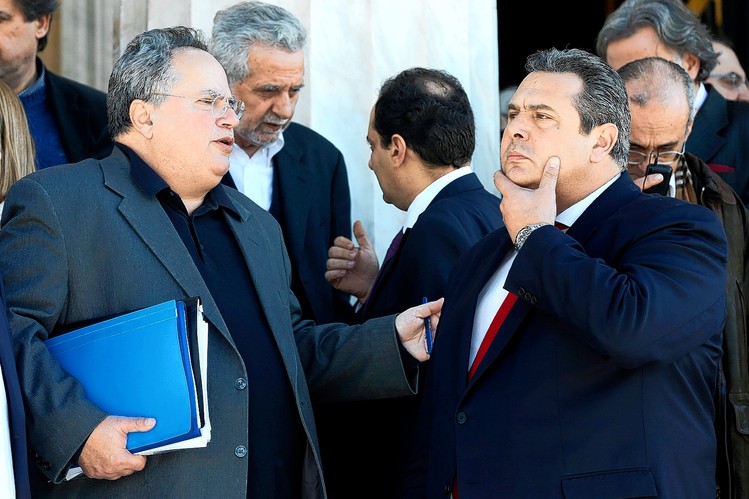 Athens, March 10, 2015/ Independent Balkan News Agency
By Spiros Sideris
Kotzias: Europe will flood with jihadists and immigrants if Greece collapses
"The Western Balkans is not stabilised and then we have Ukraine, Syria, Iraq and North Africa", Greek Foreign Minister Nikos Kotzias said in Riga, Latvia.
"The Germans want to us to suffocate. OK… You blame us for having wasted money… No one can deny to Greece the things it has given to Germany", said Foreign Minister Nikos Kotzias on the sidelines of the informal meeting of EU Foreign Ministers in Riga, Latvia, statements that immediately became front page news in german and international media.
As reported by SKAI television, the Greek Foreign minister warned that Europe will be flooded with immigrants and jihadists if Greece collapsed financially.
"There will be millions of immigrants and thousands of jihadists who will come to Europe, were Greece to collapse economically. The Western Balkans are not stabilized and then we Ukraine, Syria, Iraq and North Africa. It is a scythe", said the Greek FM.
Commenting on the way in which the situation is in Greece is depicted by the media and politicians of other eurozone countries he said:
"What we do to us is cultural racism. It is a necessity for the future of Europe to find another way of behaviour for Greece. It is also a geostrategic necessity. But instead, there was an attempt to crush the government of SYRIZA from the early days. Now there is an attempt to do so slowly… What will come next? Far-right extremism and chaos".
Kammenos: If Europe hits Greece, immigrants get papers and go to Berlin
If they try to hit Greece, tomorrow morning immigrants will get their papers and go to Berlin, said Defence Minister Panos Kammenos, speaking Sunday afternoon to members of the National Council of Independent Greeks.
As he said, what the government is doing right now is what Foreign Minister, Nikos Kotzias, described in a statement yesterday, when he said that "if you try to make Greece collapse, know that it will become a direct gateway for jihadists", and added:
"So, if they try to hit Greece, they should know that tomorrow morning we will suspend the Treaty of Dublin II – immigrants will receive their papers and IDs and go to Berlin. Among these immigrants, if there are some who have passed without having been checked whether they are on the side of ISIS, the responsibility will lie with Europe that has decided to hit Greece. This is the policy of the current government".