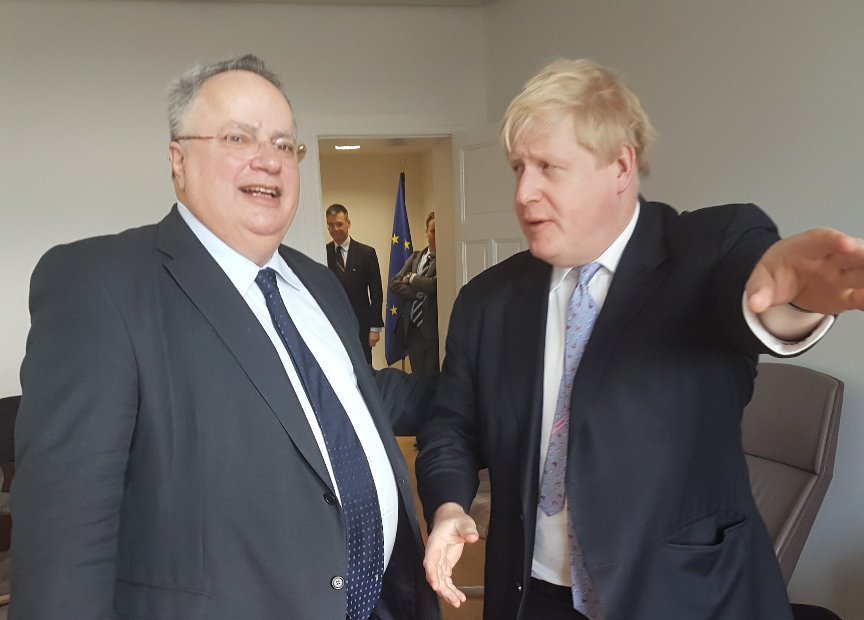 Foreign Minister Nikos Kotzias and Foreign Secretary Boris Johnson discussed the abolition of guarantees as well as the procedure and method of withdrawal of foreign troops from Cyprus during a meeting held in Brussels on Monday.
The two ministers were attending the Foreign Affairs Council (FAC).
"We discussed what happened in Geneva and how we can help so that talks on a solution for Cyprus can continue and achieve positive results. I got the impression that my British colleague has a beter understanding of our positions concerning the need to abolish the system of guarantees, as well as the interventionist – and in our opinion illegal – rights of any country to intervene in Cyprus" Kotzias told Greek state TV ERT after the meeting.
"We also discussed the procedure and method for any withdrawal of foreign troops," he added.
Asked again about the negative media reports published about him after the Cyprus talks in Geneva were interrupted, he said: "Every time the two sides meet to discuss the Cyprus issue, instead of them confirming Turkey's intransigence and lack of will for a real solution … they blame me … These [accusations] are planned in order to give some sides of these talks an alibi for their unacceptable attitude in the negotiations."
Finally during Monday's EU Council of Foreign Ministers there was a discussion on developments in the Western Balkans, where, as stated by the Foreign Minister, there is concern about the effects of destabilization and the way in which some Western Balkan states seek to influence decisions in other states./ΙΒΝΑ