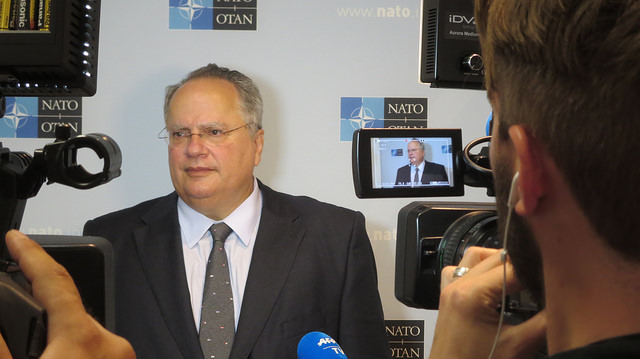 Brussels, May 20, 2016/Independent Balkan News Agency
By Spiros Sideris
The Spring Summit of the Foreign Ministers of NATO member countries in Brussels, which was attended by Greek Foreign Minister Nikos Kotzias, has began.
On the first day of the Summit, the meeting was centered on NATO's contribution to international efforts to strengthen global security and stability. The discussion highlighted the importance of further strengthening the partnerships of the Alliance and its contribution to efforts to build the institutions of vulnerable countries, and on the defence sector (Defence Capacity Building-DCB). Nikos Kotzias stressed the need to strengthen political dialogue and cooperation with its partners in the Mediterranean Dialogue and in particular with Egypt.
Regarding Iraq's support proposal, through the assistance for the development of defence institutions (DCB), the Greek Minister supported the organisation of a fact-finding mission to examine in situ conditions and calibration needs, noting at the same time, that it should be ensured that the fight against terrorism does not become a battle between Muslims and the west.
Nikos Kotzias also made reference to the Alliance's activities in the Aegean, emphasising its importance for the drastic management of migration flows. However, the malfuntion of the NATO mission, substantially reduces the effectiveness of Allied activity.
During dinner there was an exchange of views of the MFA of the Alliance member states on the future of NATO-Russia relations. In this context, the Greek minister stressed that Russia is an integral part of any security system architecture in Europe. Acknowledging that the Russian behavior creates challenges, he noted that Russia is part of the problem, but also a solution. In this light, he supported the need to strengthen the Alliance's efforts to develop a constructive dialogue with the Russian side, aimed at the active involvement of Russia in jointly tackling serious international security challenges, such as terrorism.
In this light, he suggested more frequent political dialogue meetings of the NATO-Russia Council, on the basis of the decision of the Foreign Ministers of the Alliance in April 2014. Furthermore, he noted that in order for this dialogue to be effective, each side must be heard and understand the concerns and the legitimate and positive expectations of the other.
Further, Nikos Kotzias emphasized that measures to reduce risks and promote transparency must in any case be included in the NATO-Russia dialogue, taking into account the conditions of growth of military capabilities on both sides. Finally, he expressed the hope that Russia is actively participating in the efforts for the modernisation of the Vienna Document under the OSCE.