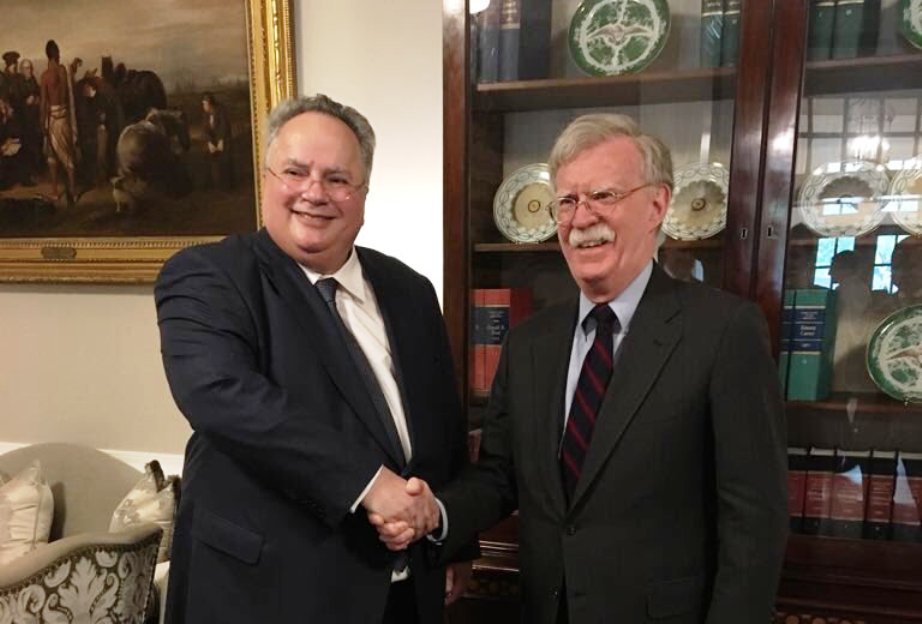 Greek Foreign Minister Nikos Kotzias concluded his circle of talks in the U.S. capital after his meeting with National Security Adviser to President Donald Trump, John Bolton.
At a meeting in the White House on Tuesday May 22, which lasted nearly twice as long as planned, Nikos Kotzias and John Bolton had the opportunity to discuss the widening of co-operation between the two countries in areas such as energy security, education, culture, but also the economy and investments.
Moreover, issues of common geopolitical interest, with emphasis on the Eastern Mediterranean, the Middle East, North Africa, the European Union, Turkey, Russia and others. where among the rest of topics on which the Greek Foreign Ministry expressed his thoughts and exchanged views with the regional Security Advisor.
What one can understand from the contacts of Nikos Kotzias, Greece has re-emerged dynamically on the international scene, recovering a key regional role, enhancing security and stability in the region. It is no coincidence that the active and multi-dimensional foreign policy of Greece has been positively appreciated by the U.S., as it forms a positive agenda through regional co-operations, which aims at solving a number of important open issues.
In statements he made to Greek correspondents, after the meeting, Mr. Kotzias noted that "the acceptance of Greece's role in the region is greater than ever before. Recognition of the initiatives we take in the country's foreign policy is an object of consultation and study on the part of the Americans."
Nikos Kotzias also had a number of contacts with members of the Congress, where he briefed them on issues of bilateral and regional interest. Among these, he met with the chairman of the Senate's Foreign Relations Committee, Bob Corker, and the minority representative in the committee, Bob Menendez.
Concluding his contacts at the Congress, the Greek FM had a joint meeting with the Co-Presidents and members of the "Congressional Hellenic Caucus" and the "Congressional Hellenic-Israeli Alliance". Bilirakis, Maloney, Sarbanes, Deutch and Titus.
Nikos Kotzias also spoke at a closed event at the Atlantic Council of Thoughts, in the presence of prominent academic and distinguished U.S. officials, where he developed Greece's positions with regard to the Balkans, Turkey and the Eastern Mediterranean…. / IBNA
Main Photo: Nikos Kotzias (L) – John Bolton (R)