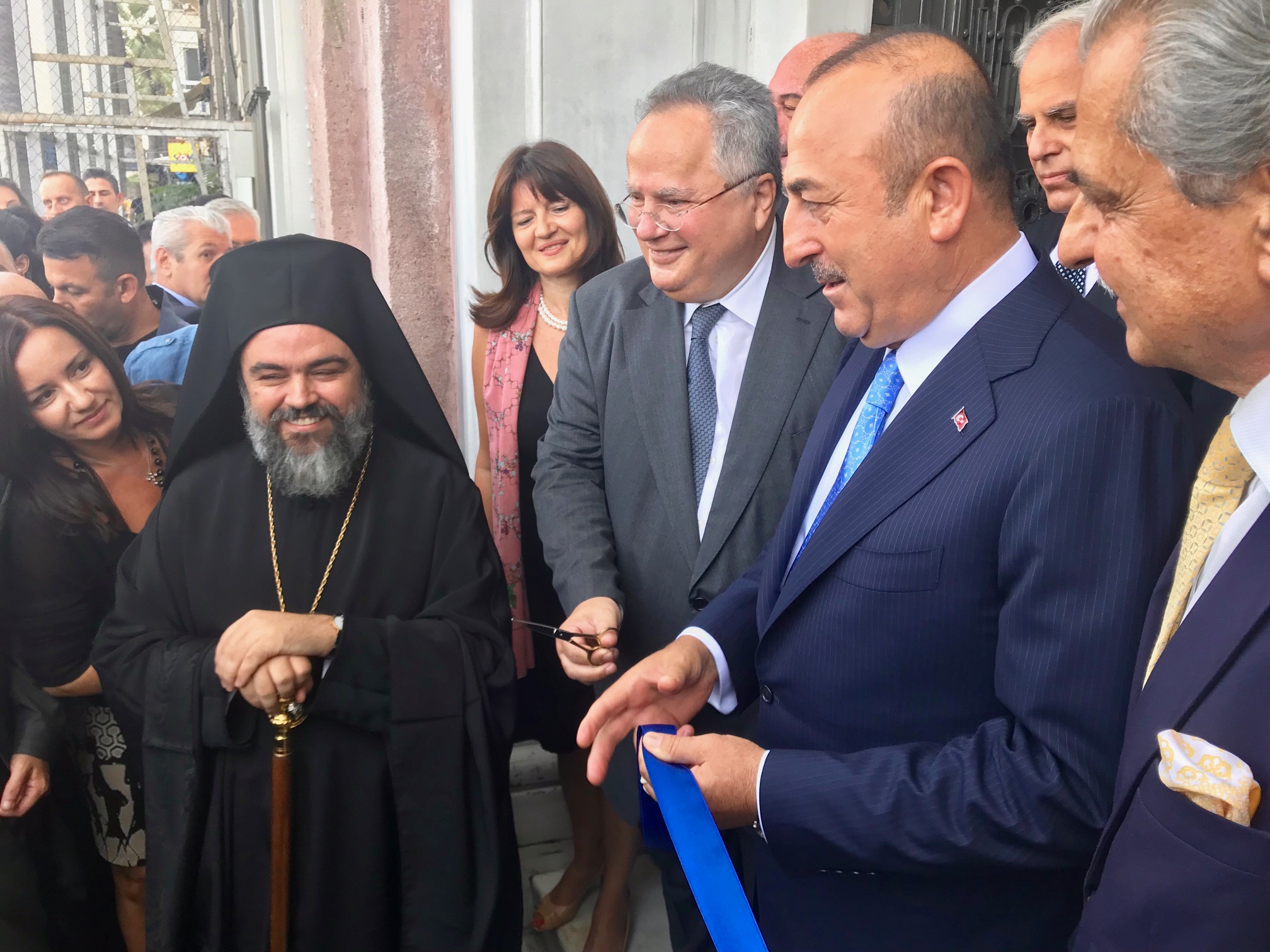 Nikos Kotzias and Mevlut Cavusoglu inaugurated the resettlement of the Greek Consulate in Izmir.
The visit of Greek Foreign Minister Nikos Kotzias to Izmir on Tuesday, September 4, 2018, for the inauguration of the renovated Consulate of Greece in the Turkish coastal city was of special importance.
For the first time in the history of the two countries (of Greece and Turkey), the Foreign Ministers inaugurated the resettlement of the Greek consular authorities in the preserved Kapetanakis building which had to be renovated due to stability problems presented at the beginning of 2000.
The Greek Foreign Minister welcomed his Turkish counterpart Mevlut Cavusoglu at the entrance of the Consulate and were both received by the Metropolitan of Izmir Bartholomew, the first Metropolitan after the Asia Minor Disaster in 1922.
They then cut the inauguration ribbon in front of a number of officials and journalists. Kotzias and Cavusoglu 'shared parts of the inaugural ribbon' to cut in a symbolic motion.
Inside the Consulate, Nikos Kotzias and Mevlut Cavusoglu welcomed all attendees and talked about both issues that unite the two countries and the differences that exist but which should not be hindered by the two countries' relations.
The two ministers then had a working lunch at RecepUsta, where for one and a half hours discussed all issues of bilateral relations, the migration problem, the Cyprus problem, the economy as well as wider regional and international developments.
It was remarkable that the citizens of Izmir warmly welcomed the two ministers on their way from the Consulate to the restaurant. Instead of covering a 300 metres distance in a few minutes, they spent almost half an hour as they constantly were stopped by locals who wanted to greet them and be photographed with them.
According to diplomatic sources on both sides, the meeting was held in a very warm climate with honesty and willingness to understand each other. A Turkish source told IBNA that what unites us is stronger than what separates us, so we have to move forward.
According to a Turkish analyst, the indirect reference made by Mevlut Cavusoglu to FETO members requesting asylum in Greece, was inevitable a top issue in Turkish news.
Regarding the flights of two aircraft belonging to the formation of demonstration of the Turkish air force and at the time of the opening of the Consulate, a senior Turkish official whom IBNA asked to comment on, noted that these planes are flying for the September 9th celebrations and have no relation to Turkish challenges against Greece as was wrongly reported by Greek media.
Perhaps in Greece it is not known that, Izmir got its own Metropolitan on the initiative of the Erdogan government, and also the Consulate was renovated while the Erdogan government was in power. The fact that today Mr Kotzias inaugurated the Consulate together with our Minister means a lot, the Turkish official told IBNA. We have entered a new co-operational relationship with Greece; as our Minister has said, President Erdogan's visit to Athens has opened a new chapter in bilateral relations, the Turkish diplomat concluded…. / IBNA
All Photos by Spiros Sideris / IBNA