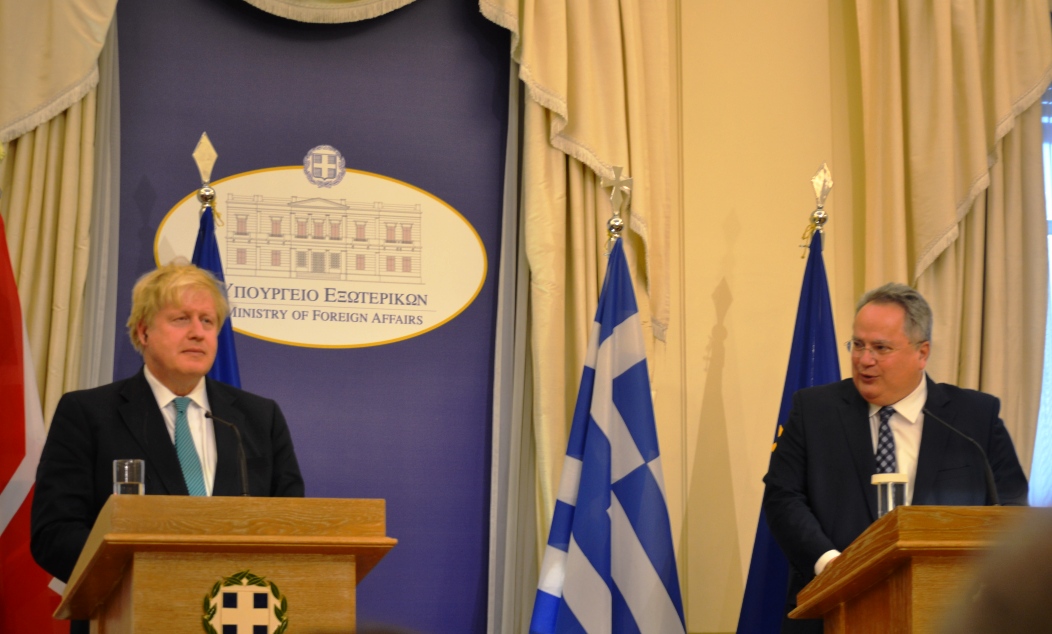 The relations between Greece and the United Kingdom are historic, long-term and with a great future, Foreign Minister Nikos Kotzias said on Thursday during a joint press conference with his British counterpart, Boris Johnson, who is visiting Athens.
"We respect the decision of the British people and we want to form the best possible deal between the EU and the UK which will serve both sides with friendship, not vindictiveness," he said. "We want Britain's exit from the EU to be orderly and with a plan, in a way that the UK will remain as close as possible to the EU and with the best possible relations with other countries such as Greece. We want to minimize the losses from Britain's departure and maximize our opportunities," Kotzias said.
"We want negotiations between the EU and Britain to be intelligent and take place in a dispassionate manner. We know that all the advantages of an agreement are accompanied by obligations."
The minister made a special reference to three issues that mostly concern Greece: avoiding the negative financial implications from Brexit, safeguarding Greek workers and students' rights in the UK as well as those of Britons living in the country (around 45.000), avoiding the negative impact on our trade in goods and services, and of course tourism, as Greece welcomes annually a very large number of British nationals.
On Cyprus, he said they discussed the importance of finding equitable and intelligent solutions and reiterated Greece's position against guarantee rights by third countries and armies on the island.
Kotzias said they also discussed the situation in Syria as well as the initiatives taken by the UK on the issue. "We are against unjust wars and terrorism and both countries have condemned the deadly attack in Syria," he said.
On his side, Johnson condemned the recent gas attack in Syria, saying "the Assad regime continues to treat the citizens of the country in such a manner."
He said the two ministers didn't discuss Brexit too much, but noted "much more important issues" such as the historic bonds of friendship between the two countries which come first and will continue in the same framework after Britain has exited the EU.
"We may be leaving the European Union but we are not leaving Europe […] Our friendship with Europe concerns our friendship with Greece and we discussed the prospect of developing that relation."
The British Foreign Secretary expressed his gratitude for the views presented by Kotzias on the negotiations with the EU saying the two sides can reach an agreement that would be mutually beneficial. He said it's very fortunate for his country that there are many Greek citizens working and studying in the UK and thus contributing to the economy and society.
"For all our citizens, Greeks and British, we want to reach an agreement that would be mutually beneficial, a good deal," he said, adding Greece and the UK can promote their economic, political and strategic relations./IBNA
Photo: IBNA/Spiros Sideris