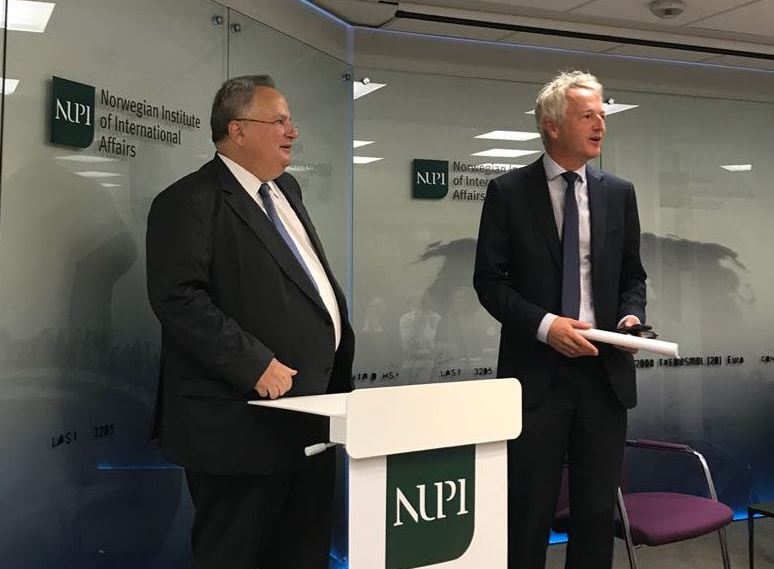 Greek Foreign Minister Nikos Kotzias began his official visit to Oslo, Norway from the Norwegian Institute for International Relations (NUPI), having accepted an invitation from his counterpart Ine Marie Eriksen Søreide.
In his address of the NUPI, entitled "Principles of Greek Foreign Policy", which was attended by politicians, academics and diplomats at the HQ of the most prestigious Norwegian think-tank, Nikos Kotzias explained the context of Greece's foreign policy.
"We have managed to act as a pillar of stability and peace, social justice, equal relations between states on the basis of international law, with respect to cultural pluralism and dialogue in addressing every problem. We did so in an unstable region", Nikos Kotzias noted. "Like Norway, we are a country that knows how to mediate, find solutions when interests collide. This is something we are proud of, even when our efforts are not always publicized," the Greek Foreign Minister continued. "What counts in diplomacy is success and this is not always measured by media reports", he concluded.
Nikos Kotzias continued his speech noting that Greece's interests are very much connected with the Balkans, because of the size of its economy, human capital and infrastructure, making it a pillar for the development of the whole region. This, of course, also means greater responsibility, Kotzias said. Besides multi-level cooperation, Greece's leading role in the Balkans must also shape the consolidation of a culture of compromise and consensus among the states of the region, he added.
Greece's geo-strategic position, within a triangle of instability containing Ukraine, Libya, Iraq and Syria, calls for "flexibility and adaptability" in the pursuit of foreign policy.
Referring thoroughly to the twelve principles governing Greece's foreign policy, he combined them with the sixteen initiatives and the nine international formations that were created during his term in the Foreign Ministry, in order to build trust, security and stability.
Referring to the Prespes Agreement, he pointed to the active and multidimensional foreign policy of Athens, aiming at resolving rather than perpetuating problems, which served to resolve the name dispute between Athens and Skopje.
Nikos Kotzias clarified that "the Prespes agreement is neither the result of circumstance, nor the result of "external pressure", as the opposition parties in Greece often charged. "On the contrary, it was our own choice to adopt an active approach," he said. The Foreign Minister described the agreement as "the epitome of a structured and just compromise in the region, which serves as a source of inspiration for others in an area of long conflict". At the same time, he appeared optimistic that negotiations with Albania would soon be successfully concluded on a package of ten issues, including the demarcation of borders and maritime zones.
In relation to Turkey, Nikos Kotzias noted the internal contradictions in the country, its balance between arrogance and self-confidence, as well as its revisionist tendencies. Against this Turkey, Greece, he said, seeks to reduce tensions, but without giving the impression of being weak, fearful and willing to make concessions on its principles and values. "We have a different view of the value of life and war. And this is a responsible policy", Mr. Kotzias said. He concluded by stressing that Greece wants dialogue and cooperation with Turkey, "but we remain firm in our positions".
Greece's commitment to international law was showcased by the Foreign Minister's reference to the country's stance on the Cyprus issue. "Cyprus must become a normal state, a member of the EU and the UN. It must fully enjoy all the rights of a normal situation without any "rights" of third party interventions", Mr. Kotzias noted. He went on to reiterate that for Greece, the Cyprus problem is an issue of illegal invasion and occupation.
However, the foreign policy exercised is also characterized by the "promotion of a positive cooperation agenda", the Greek Foreign Minister noted, referring to the initiatives for bilateral, trilateral and multilateral partnerships that he has implemented./IBNA