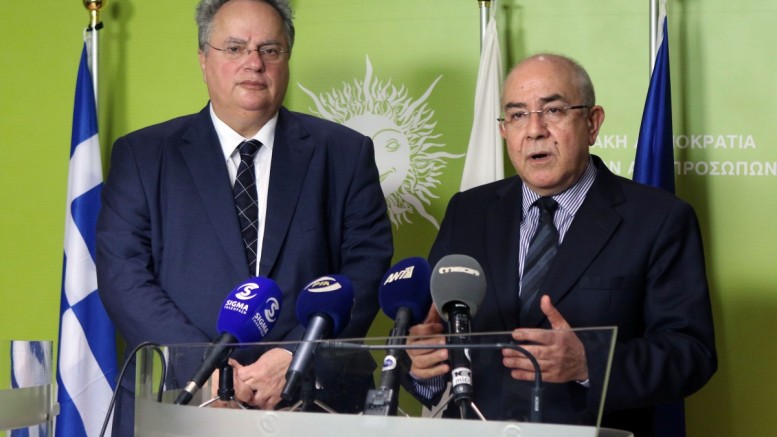 Nicosia, October 27, 2015/ Independent Balkan News Agency
By Spiros Sideris
Greece takes initiatives to end its status as a guarantor power in Cyprus and contribute to the withdrawal of the Turkish troops from the island, Greek Foreign Minister Nikos Kotzias said on Tuesday, after meeting Cyprus' President of the House Yiannakis Omirou, in Nicosia.
Besides the Cyprus problem, Omirou and Kotzias discussed problems in the wider region and stressed Cyprus' and Greece's role as factors of stability. They also exchanged views on the refugee crisis.
The solution of the Cyprus problem must secure the physical and national survival of Cypriot Hellenism, Omirou told the press after the meeting. He noted that the solution must also be based on the principles of the international and European law, end the anachronistic guarantees of 1960 and unite the people, the state, the institutions and the economy in the framework of a federation as it was accepted in the High Level Agreements of 1977 and 1979.
The President of the House said that with the Greek Foreign Minister they reached the conclusion that Cyprus and Greece constitute factors of security and stability in the wider region.
On the refugee crisis, he said that the international and European community must contribute to the countries that bear the burdens of the crisis, noting also the need to deal with the causes of the refugee crisis that have led so many people to abandon their country and seek a new life in EU member states.
"Greece supports the efforts of the Republic of Cyprus to solve the Cyprus issue and has taken initiatives to end its role as a guarantor power and to contribute to the withdrawal of the Turkish troops from the island" Kotzias said.
The Greek FM noted that the Cyprus problem must be solved in the right way, based on the international and European law.
"We respect the Republic of Cyprus and we do not want to allow anyone, called either big powers, or Greece, or Turkey to intervene in the Republic of Cyprus' internal affairs and we would be happy if Ankara got that message".