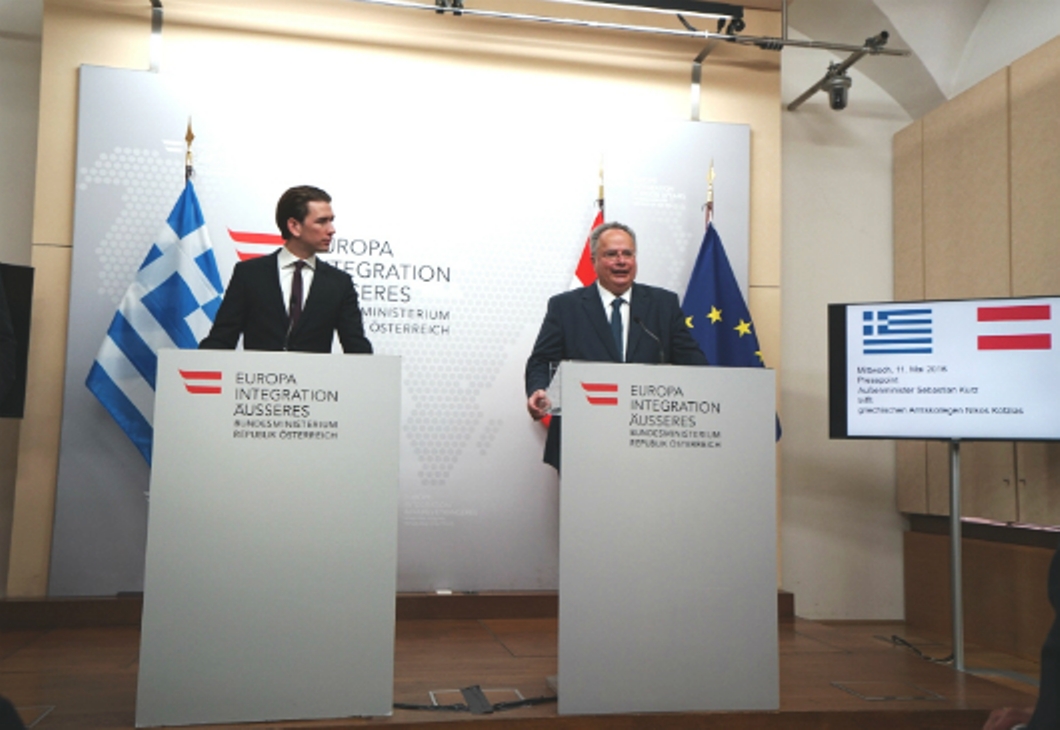 Athens, May 12, 2016/Independent Balkan News Agency
By Spiros Sideris
In a very good climate took place the meeting of Greek Foreign Minister Nikos Kotzias in Vienna. The Greek Foreign Minister, accepting the invitation of his Austrian counterpart Sebastian Kurz, visited the Austrian capital after a "difficult" period for the two countries. Mr Kotzias was accompanied by the Ambassador to Austria Chrisoula Aliferi. The Greek ambassador in Vienna, who had withdrawn the Foreign Minister after repeated provocative statements of Austrian politician against Greece, who were even calling for its expulsion from the Eurozone, returned once again after nearly two and a half months to Vienna.
The two ministers discussed the refugee issue, the situation in the Western Balkans, the economic crisis in Greece and the crisis in the Middle East.
During the joint press conference, the Austrian Foreign Ministry stressed that "I am very happy that we had today this exchange of views, as Greece and Austria are two countries that cooperate in the European Union and also the two countries, which in many aspects – and you have witnessed this as well – have different views and different solutions.
Therefore, today we used the time to discuss in great detail on the refugee problem, from which we both have been affected, Greece mainly as a transit country, as a country to which last year have reached countless people. We Austrians have also been affected too, as our country of final destination with the second largest number of refugees per capita last year, with 90,000 refugees.
I am glad that in recent weeks and months through different measures we managed to reduce the flow from Turkey to Greece, but also to reduce the flow through the channels of the Western Balkans to Central Europe. I think we agree that the situation has been somewhat relieved, but still we would have to work further together for a common European solution, even if there is some diffusing at present".
Continuing, Mr Kurz referred to the Western Balkans, saying, "The Western Balkans, a region that is particularly dear to us, both economically as well as culturally and politically. We feel it very close to us. It is very dear to the Greeks as well, as Greece from the other geographic direction is very close to the Western Balkans. So it was very good that we exchanged our views in this area and of course on other issues on which we want to work together, particularly with regard to the dialogue between cultures, dialogue between different religions; it is something that interests both sides and we have agreed to cooperate even further on this issue".
Mr Kotzias thanked his Austrian counterpart for the invitation and stressed that "the invitation gave us the opportunity to discuss very frankly, that is with the sincerity that distinguishes Mr Kurz and the sincerity with which I always speak. We both have concerns, fears and qualms as to how the refugee issue will develop in the future. We are two politicians completely oriented in Europe, we seek solutions for Europe and we want to work together in this direction. This will be done in cooperation with ambassador, Ms Aleiferi, who has returned and will remain here.
We also talked about many problems. One of the issues that preoccupied us is solidarity. We expect from our partners in Europe Solidarity – which is not always a given – on economic issues, the economic situation of Greece, on how to deal with the refugee issue. I have also showed Sebastian an analysis, which shows that for us the issue is particularly difficult and complex since it emerged in Greece in a time of economic crisis. Thus, economic and refugee issues end up developing to national security issues.
We also discussed our position towards the Western Balkans and relevant cooperation. I informed Mr Minister on the proposals we have submitted to our neighbours about possible forms of cooperation", the Greek Foreign Minister concluded. At the end, Nikos Kotzias addressed an invitation to Mr Kurz to visit Athens, which the Austrian Foreign Minister accepted.
Today the Greek Minister will visit Slovakia and will meet with his counterpart and other state officials in Bratislava.