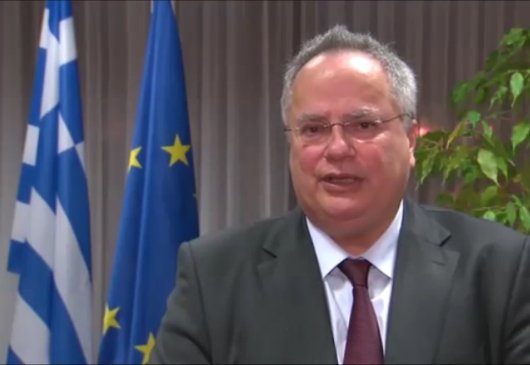 Greek Foreign Minister Nikos Kotzias held a meeting with his Albanian counterpart Ditmir Bushati, on the sidelines of the Foreign Affairs Council,  on Monday. During the meeting, Nikos Kotzias raised issues relevant to Greek-Albanian relations and Albania's European perspective.
Furthermore during the Foreign Affairs Council discussion on Turkey – EU relations, the Greek Foreign Minister stressed that the EU should decide what kind of relationship it wants with Turkey. We wish to treat Turkey either as a future member state or as a strategic partner outside the EU, stated Kotzias.
Wishing for a European and democratic Turkey, Greece believes that Turkey's European prospects should remain open.Turkey is an unpredictable power, said Nikos Kotzias, an element that is also evident from its provocative behaviour towards Greece, through an array of airspace and sea violations. An attempt should be made by the EU for Turkey to calm down, he added.
The Greek Foreign Minister stressed that "we are absolutely in solidarity with Turkey against the coup, but from a standpoint of defending democratic institutions and not in the defence of individuals having absolute power".
Furthermore Nikos Kotzias mentioned the Cyprus Issue, noting that its resolution is not linked in any way with Ankara's geo-strategic interests. The maintenance of Turkish troops on the island is also a European issue since the EU cannot accept Turkey as a guarantor for the rights of European citizens in territories with European domination.
The Greek Foreign Minister highlighted that Greece prefers a European Turkey as opposed to a neighbour who dreams of Ottoman grandeur. This position taken by Ankara inspires other states in our region in forming similar revisionist trends, he added.
On the visa issue for Turkish citizens, "this should be taken seriously, respectfully and in a productive manner", Kotzias stated. The implementation of this measure depends on whether Ankara respects the agreements reached in the framework of the refugee crisis. As long as Turkey implements the agreement, there should be a frank response from the EU, perhaps through the gradual liberalisation of visas for certain categories of citizens. EU – Turkey relations require the adoption of a policy based on principles, the Greek minister concluded./IBNA