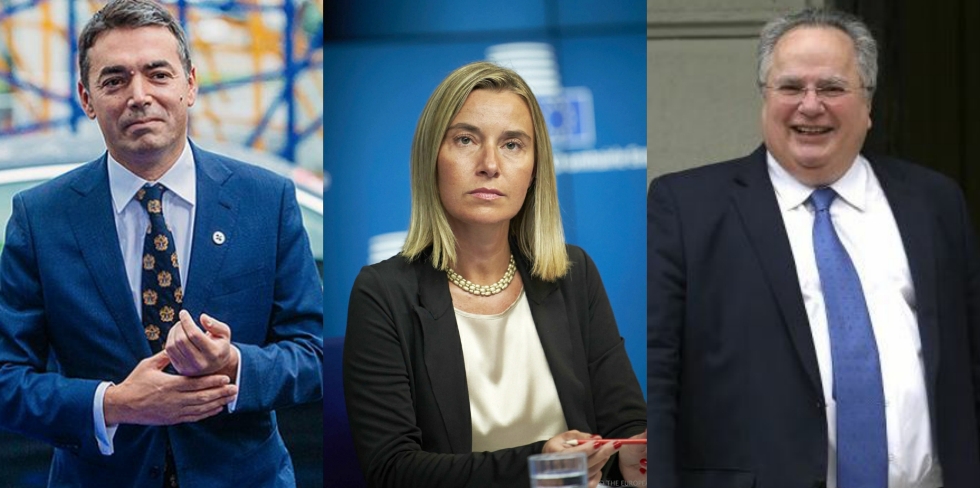 Nikos Kotzias and Nikola Dimitrov will have the chance to meet at EU's High Representative for Foreign Affairs and Security Policy Federica Mogherini's breakfast time, that will take place at the Silken Hotel in Brussels on the morning of May 28. At the morning meal, apart from the Greek and fYROMacedonian Foreign Ministers, their EU member states' counterparts will attend too.
During breakfast -held ahead of the EU Foreign Affairs Council- participants will be informed about the developments in the name issue negotiations.
On Sunday afternoon, May 27, Nikola Dimitrov had an hour-long meeting with EU High Representative Federica Mogherini, where a full analysis of the significant progress made in the ongoing negotiations on the name issue took place.
According to the announcement, after the meeting, Federica Mogherini expressed the EU's support for the ongoing talks and said the possibility of a positive outcome "would be decisive not only for the country, but also for the whole region and the EU".
Nikola Dimitrov, who is in Brussels to give a lecture after his trip to the U.S., will also have meetings with Ekaterina Zaharieva, the Bulgarian FM, chairing the European Council in the first half of 2018, and with Karin Kneissl, the Austrian FM. Austria will take over the rotating six-month EU presidency on 1 July 2018.
Nikola Dimitrov's desire, according to information, is to inform his EU counterparts on developments in the name talks, and will also request the opening of the pre-accession dialogue, which means EU funding to strengthen reforms and infrastructure in fYROMacedonia. This objective is considered feasible as the last EU assessment was sufficiently positive regarding this prospect, since, the opening of the accession process without the completion and settlement of the name issue dispute with Greece is not possible.
EU sources speaking to IBNA have highlighted that there is no pressure on Greece to reach a solution, as the goal of enlarging the Union is in the distant 2025, without being binding, as Commission President Jean Claude Juncker has pointed out.
According to IBNA, there was no telephone communication between the Greek Prime Minister Alexis Tsipras and his fYROMacedonian counterpart Zoran Zaev at the weekend, but only continuous contact of their diplomatic offices in connection with the outcome of the New York talks.
After attending the EU Foreign Affairs Council, Nikos Kotzias will head for Germany where he will meet with German President Frank-Walter Steinmeier on May 28, and on Tuesday May 29 he will meet with his German counterpart, Heiko Maas. The discussions will focus on issues related to bilateral co-operation, focusing on the implementation of the Greek-German Bilateral Action Plan signed in 2016, as well as on issues of European and regional interest, focusing on developments in the Western Balkans and the Eastern Mediterranean…. / IBNA