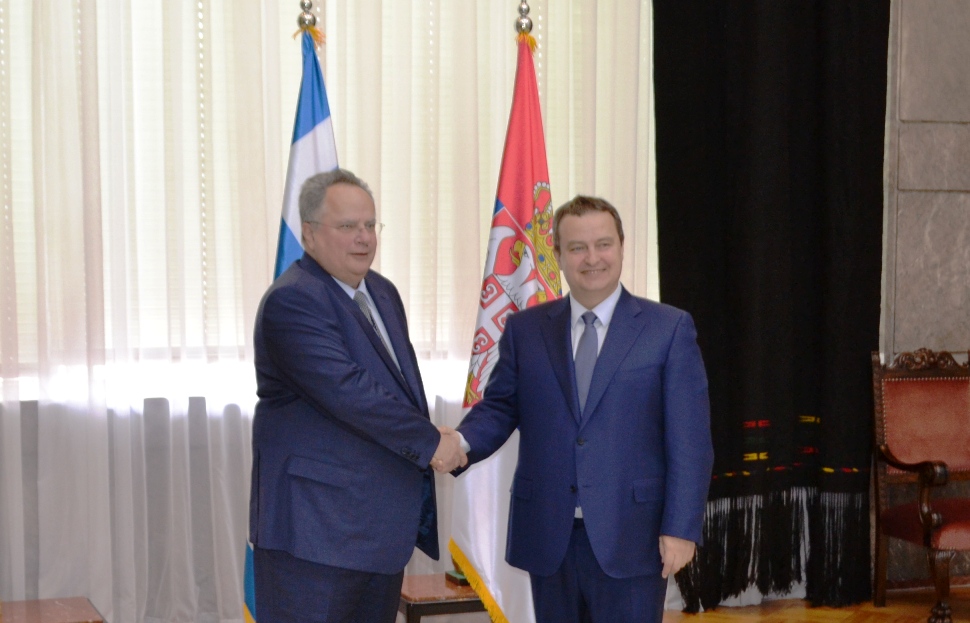 Serbian First Deputy Prime Minister and Foreign Minister Ivica Dačić is in Athens and, according to the Greek Foreign Ministry's announcement, will meet with Greek Foreign Minister Nikos Kotzias; wider consultations between the two delegations will follow the meeting of the two men.
Greece, a long-standing and traditional ally of Serbia with both political and religious ties. Greece played a leading role at the start of Serbia's accession talks with the EU, since the talks began in 2014, during the Greek Presidency. Greece supports Serbia's European course as well as the dialogue process between Belgrade and Pristina.
Serbia is considered to be a key factor of stability in the Balkans as it is the country with the largest capacity in both population and economy, while it is also a barometer for developments and stability for the entire Balkan peninsula and is therefore a privileged partner for Greece.
Ivica Dačić's visit is combined with the Greece – Serbia High Level Co-operation Council, to be held in Thessaloniki on Thursday, July 13. The Greece – Serbia Council was agreed during Greek Prime Minister Alexis Tsipras' visit to Belgrade on 31 January 2017.
The two countries, as strategic partners, share common views and values, at a critical juncture for the Balkans, with Greek-Serbian friendship being the critical contribution to this.
According to IBNA information, besides finalizing the latest details for the Summit, Nikos Kotzias and Ivica Dačić will discuss regional developments following the elections in Albania and FYRO Macedonia, international developments, while the debate will focus on bilateral issues which are many and important.
Expanding cooperation on investment, economy, diversification and energy are the main pillars of cooperation to be discussed. The extension of TAP to the North will be one of the key issues to be discussed as it will examine whether pipeline networks through Greece can be connected to Serbia's pipeline networks to contribute to European energy security.
Greek Foreign Minister Nikos Kotzias will, at the end of the extended consultations, give a joint press conference with his Serbian counterpart and will then host a working lunch in honour of Ivica Dačić./ΙΒΝΑ