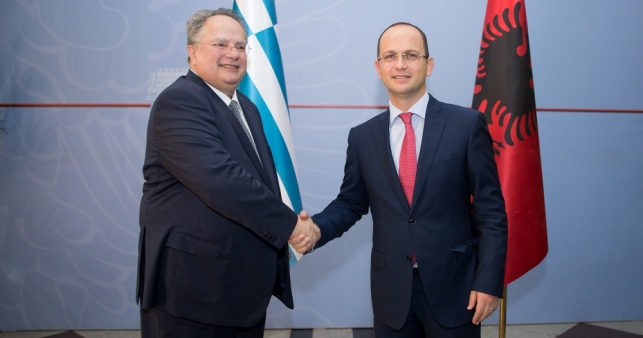 With the exact meeting place not yet arranged but with the island of Crete, Greece, being one of the most possible choices, the Foreign minister of Greece and Albania will come together for a two-day meeting between the 10 and 12 November. The talks will focus on bilateral relations.
During the multi-issue press conference that the Greek FM gave last week, it was made clear that he wishes to resolve all existing problems with neighbouring countries. After all, this was clear also when he recently visited Ankara. It was there and then that he openly showed his intentions to begin a full-scale dialogue with Turkey in order to find solutions to issues still standing between the two.
The Kotzias-Bushati meeting was decided in New York at the working luncheon of the two men on the framework of the UN General Assembly. Last days' tension, with the Greek Ethnic minority of Himara denouncing the Albanian Governors for illegally demolishing houses belonging to people of the community, advanced the date of the meeting.
One more prickly subject among the neighbouring countries, during the past period, that caused Greek Foreign ministry's reaction, is the law passed by the Albanian parliament regarding minorities. The ministry's spokesman said: "Instead of safeguarding minorities' rights in the country based on European standards, the Albanian parliament passed a law which perpetuating the abuses of the Hoxha regime. It is a step forward for existing and non-existing minorities and a step back for Albania's most important and still present minority", meaning the Greek Ethnic minority.
Despite the tense atmosphere between the two countries, Nikos Kotzias' initiative is considered of great importance also from the Albanian side, as they know that solving long-standing matters with Greece will bring them closer to their Euro-Atlantic course.
According to IBNA's sources, the agenda of the meeting will include the Greek Ethnic minority issue, the military cemeteries, the Exclusive Economic Zone (EEZ) policy planning, the school books, the abolition of the mercenary and the maritime borders while the Albanian government will put on the table the Cham issue…/IBNA