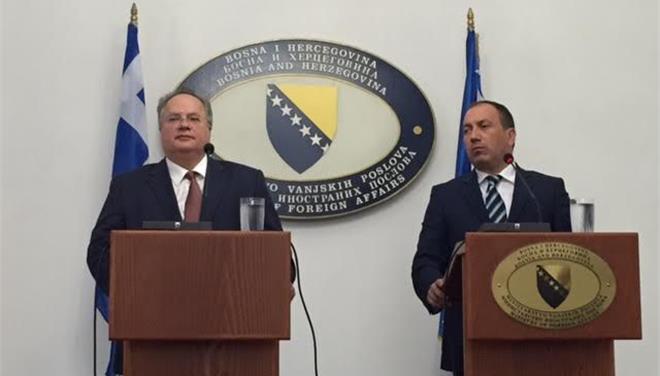 Athens, July 16, 2015/ Independent Balkan News Agency
By Spiros Sideris
The improvement of bilateral economic and trade relations between Greece and Bosnia and Herzegovina, which are at a very low level and the assistance of Greece to Bosnia's accession course to the EU were the key issues in the meeting on Thursday afternoon between Greek foreign minister Nikos Kotzias and his counterpart Igor Crnadak in Sarajevo.
BiH is one of the friendliest countries towards us, Kotzias said, stressing that Greece as one of the oldest EU members who have contributed to the enlargement of the Union can offer help and sympathy, but also expertise, to the accession course of the friendly country, as well as its support for BiH's relationship with NATO.
"Nobody does any favours to BiH by opening the way to the EU", noted the Greek Foreign Minister, saying that "this country that incorporates many cultures and peoples is an example of positive energy in the EU".
On economic cooperation between the two countries, Kotzias said that this could be extended to many sectors of the economy, infrastructure, transport, energy and trade, noting that a new closer relationship between the two governments could be established.
On his part, Crnadak stressed the importance an EU membership has for his country, primarily for the values ​​that are important to all the peoples in the Balkans, but also for the very friendly relations with Greece, which can contribute significantly in this course.
The BiH foreign minister welcomed the Greece's contribution for the closer cooperation between the Balkan countries, stressing that it will make all countries stronger in their accession process, while will also strengthened security in the region. In this context, the two ministers agreed to continue the implementation of the bilateral agreement of 2003 on cooperation between the two foreign ministries, on the issue of support of Greece to the European path of Bosnia.
What's more, the Bosnian foreign minister stressed that this meeting with his Greek counterpart enables the expansion of trade between the two countries beyond the 20 existing bilateral agreements, resulting in a significant improvement in this area in the future.