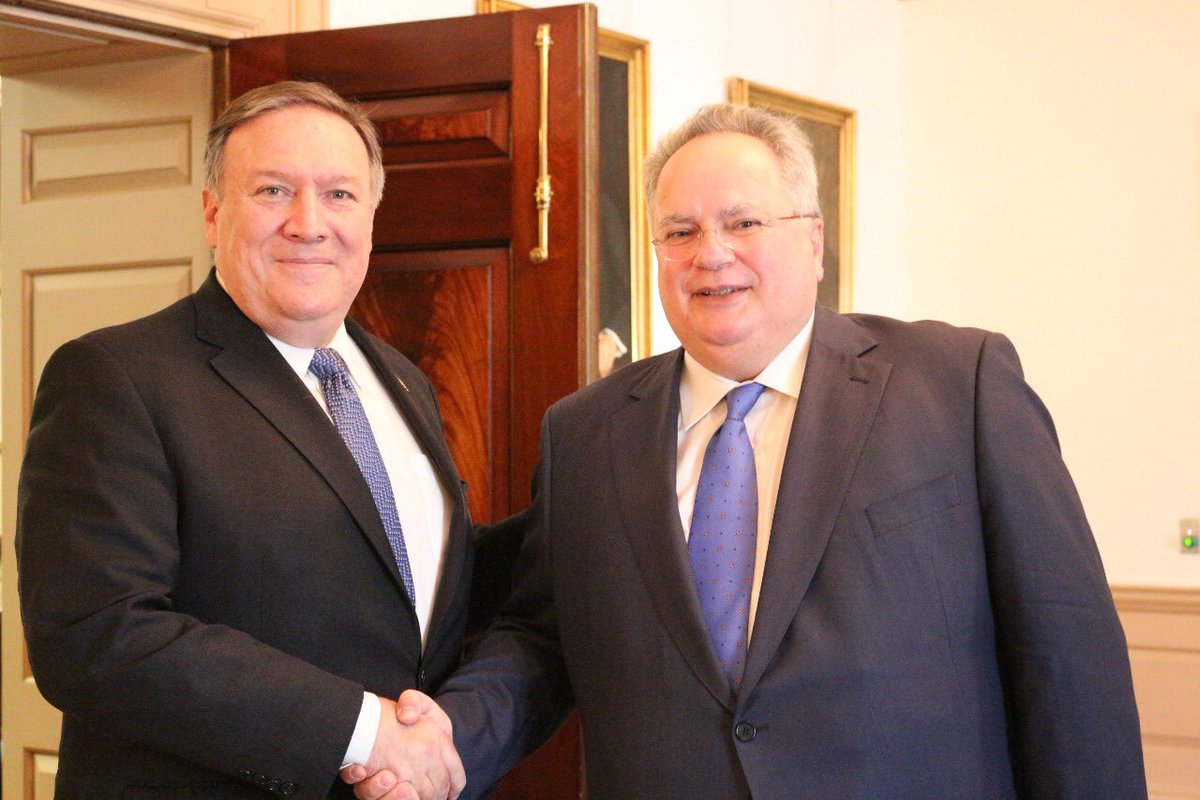 Greek Foreign Minister Nikos Kotzias began his official visit to the United States by meeting with U.S. Secretary of State Mike Pompeo.
Nikos Kotzias described their get together as an interesting and friendly meeting, where regional issues were discussed with particular emphasis on the Eastern Mediterranean and the Middle East. As the Greek Foreign Minister said at the end of the meeting, he stressed to his American counterpart the need to ensure security and stability in the region, while referring more closely to Turkey's stance and the need to support the Republic of Cyprus' international rights.
The U.S. side welcomed it, making a special reference to the trilateral partnerships that Greece has promoted in the region. The security, energy and technology sectors were also discussed in detail. In particular, the issue of energy and the prospects opened up by the finding of deposits in the Eastern Mediterranean and how they will help to strengthen the region's energy security were debated.
According to the statement issued by the State Department spokesman, "the two ministers discussed the excellent level of bilateral relations and agreed to consolidate the U.S.-Greece strategic dialogue in key areas of co-operation. Mike Pompeo congratulated Greece on its leadership role in the region, including efforts to address the challenges in the Balkans and the Eastern Mediterranean.
The U.S. Foreign minister also offered continued support to Greece's economic recovery and underlined the importance the U.S. attaches to its role as a honorable country at the 2018 TIF (Thessaloniki International Fair). The two men agreed to stay in close contact for all this and other bilateral, regional and international issues of common interest and to work closely in the coming days to ensure stability in the Eastern Mediterranean.
Replying to a question by journalists, on whether the two men discussed the fYROMacedonian name issue, Nikos Kotzias said he did not talk about it with Mike Pompeo, but he was engaged in two meetings with U.S. Undersecretary of State Wess Mitchell, stressing that there is no pressure on Greece, as Greece is responsible for its moves.
As Nikos Kotzias also mentioned, "regarding the name issue, we support the need to adopt one of the names proposed by Mr Nimetz, we do not agree as you know with the his fifth proposal and (wish) to proceed with the implementation of a strategic plan for friendly co-operation in the future with this country, with its new name ."
On Tuesday, the Greek minister will meet with the National Security Advisor John Bolton, as well as with leading officials of UN's two legislative bodies…. / IBNA