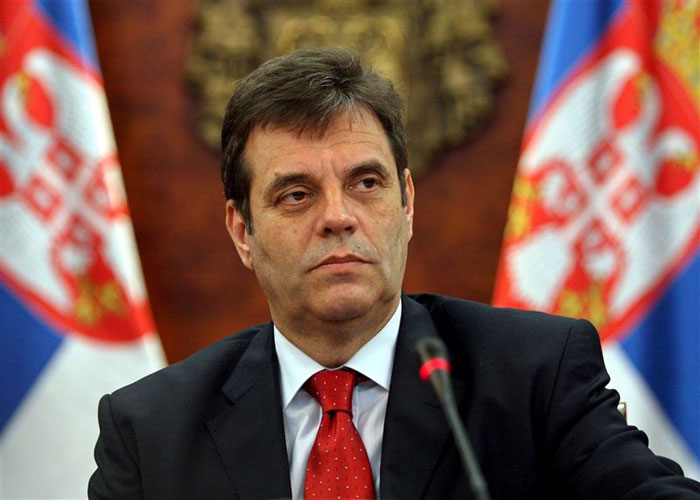 By Milos Mitrovic – Belgrade
When a Serbian party leader resigns it`s truly unusual, almost bizarre event. Serbian party leaders usually keep their positions at any price, despite their unpopularity or electoral defeats. Therefore, the decision of the former Prime Minister Vojislav Kostunica to resign after his Democratic Party of Serbia (DSS) failed to reach 5 % threshold to enter the Parliament on March 16 elections was a surprise for both common people and experts. But this resignation was not precedent for Kostunica.
In 2008, when Kosovo Albanians unilaterally declared the independence of the territory, Kostunica resigned from Prime Minister's post because his coalition partners did not accept DSS demand Serbian negotiations with the European Union to be suspended; Kostunica has been insisting that EU was the main sponsor of the separatists.
However, political parties in Serbia are equated with their long time leaders and leader`s resignation may mark the collapse of the party; Kostuinica (69) has been DSS leader since the party was founded in 1992. After he made "irrevocable resignation" on Wednesday, Aleksandar Popovic (42), former minister in Kostunica`s government was appointed for interim DSS president until the early party congress. Kostunica refrained from giving more specific explanation about his move.
"I did my best for Serbia. Thank you so much for your cooperation", he told reporters while leaving DSS headquarters on Wednesday.
When Kostunica said "he did his best for Serbia" he undoubtedly pointed, among other things, to 2006 Constitution which has incorporated preamble stipulating that "Autonomous Province of Kosovo and Metohija is inalienable part of Serbia". However, soon after Kostunica resigned from PM position, Serbian insisting to preserve Kosovo as its part started to languish and DSS popularity to drop. The next Democratic Party (DS) government accepted EU Law Enforcement Mission establishing in Kosovo, which Kostunica was feverishly opposing. He was also laud to criticize concessions which DS government gave to Pristina. 2013 Brussels Agreement on normalization of the relations between Belgrade and Pristina accepted by the Socialist-Progressive government was perceived by Kostunica as gradual Kosovo independence recognition.
DSS fiasco at Sunday's elections meant elimination of the only Euro-skeptical or "patriotic" group from the National Assembly. Serbian Progressive Party (SNS) may use its landslide victory to change the Constitution and accept Kosovo independence for Serbian accession to European Union in return.
Vojislav Kostunica will be remembered as a man who overthrown the autocratic regime of Slobodan Milosevic in 2000. Nonetheless, this is to some extent simplified assessment. Democratic opposition struggle against Milosevic lasted 10 years and it had been hampered by repression and media control but also by internal divisions among dictator's foes. At the same time, during the war in the former Yugoslavia DSS and Kostunica set as their priority the protection of Serbian people in Croatia and Bosnia-Herzegovina; the idea of Greater Serbia as a solution was not unacceptable to them. They have criticized Milosevic`s siding with the West, when former president who previously was stamped by Western media as the "butcher of Balkans" evolved into "factor of peace and stability"; 1995 Dayton accords on peace in Bosnia signed by Milosevic DSS considered to be contrary to Serbian interests. Afterward, when Milosevic entered his final conflict with the West over Kosovo, DSS was regarded by state media as constructive and patriotic party, in contrast to the rest of opposition.
During 1996/1997 opposition protest against Milosevic over local elections fraud,  Kostunica stayed aside. However, when Milosevic in 2000 called former FR Yugoslavia presidential elections the most opposition parties agreed Kostunica to be their candidate; they thought that only Kostunica with his ideology that combines democracy and nationalism could defeat Milosevic. And they were right. Kostunica was elected for the candidate despite the minor role of his party at the political scene.
Kostunica, as the President of Yugoslavia, was at odds with many parties that subsequently formed Serbian government in coalition with DSS. In 2001 he bitterly opposed the extradition of Milosevic to Hague Tribunal for the war crimes trial arguing that such move would be illegal. When Milosevic was finally extradited, Kostunica described it as a coup. Although he considered Hague Tribunal to be "anti-Serb", many former officials as well as military and police commanders were extradited after Kostunica has been appointed for Serbian Prime Minister in 2004.
Kostunica`s presidential term was marked by the open conflict with Serbian Prime Minister and Democratic Party leader Zoran Djindjic. Djindjic pleaded for strengthening the new democratic institutions as well as Serbian accession to EU and cooperation with the Hague Tribunal; Kostunica insisted on institutional continuity with the former regime and in foreign policy he opted for balancing between West and Russia. However, after finishing his first PM mandate in 2007 Kostunica was proud to stress that his government has adopted numerous pro-European laws.
The most controversial moment in Kostunica`s political career were his relations with the structures of Milosevic`s regime that have survived changes in 2000. In November of 2001 Special Operations Unit (JSO) led by Milorad Ulemek raised a rebellion against Djindjic`s government protesting over cooperation with the Hague Tribunal. Kostunica considered rebellion as legitimate act. In 2007 Ulemek was sentenced to 40 years imprisonment for Djindjic`s 2003 assassination. He was also sentenced for killings of Milosevic`s opponents committed in 1990s.
The political background of Djindjic assassination is still unresolved. European Union recently demanded from Serbia to solve it. Djindjic`s family lawyers as well as some political parties and media pointed finger to Kostunica with regard to political background. He rejected all the allegations and even refused court demand to give his statement complaining on "organized lynch" against him.
For the followers and admirers, Kostunica is "intellectual without a stain in career", as one prominent journalist once stated. Kostunica graduated in the University of Belgrade's Faculty of Law in 1966. He earned his Ph.D. in 1974 with the thesis "Institutionalized Opposition in the Political System of Capitalism". Kostunica was an assistant at the faculty from 1970 until 1974, when he left due to a political purge at the university for criticising the communist regime of Josip Broz Tito. After his expulsion, Kostunica worked at the Institute of Social Sciences, and from 1981 at the Institute for Philosophy and Social Theory, where he engaged in the protection of human rights, specifically in the defence of freedom of thought and expression.
It is believed that Aleksandar Popovic will be elected for new DSS leader preserving Kostunica`s concept of the political neutrality of Serbia. Popovic will have difficult task to return DSS into Parliament after the majority in Serbia accepted almost unconditional – from Serbian side – accession of the country to the European Union.