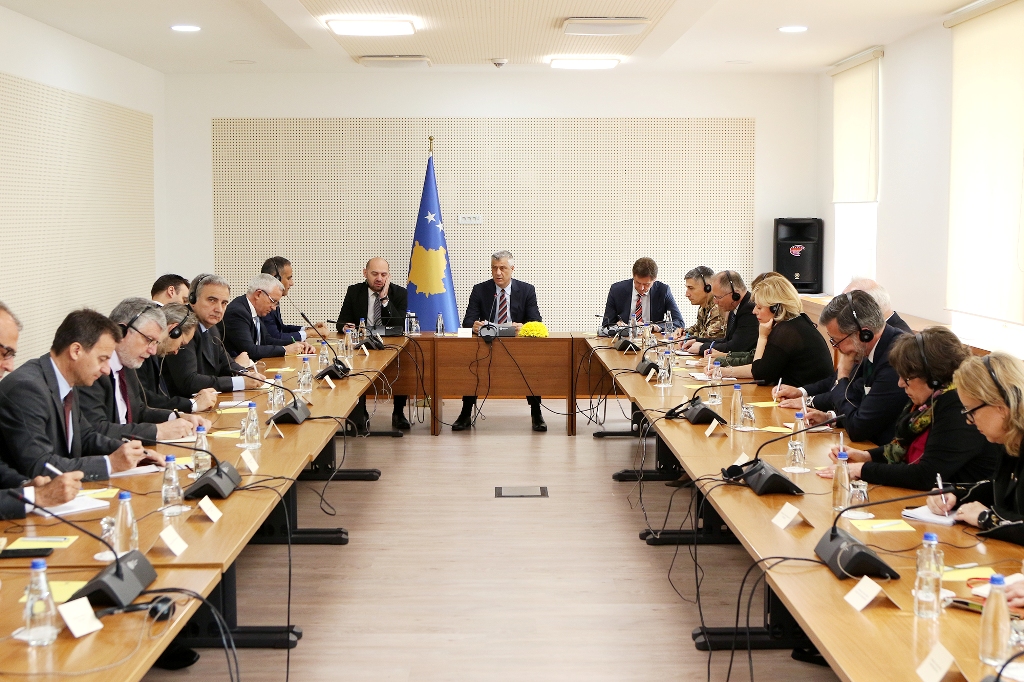 President  of Kosovo, Hashim Thaci on Wednesday had a meeting with ambassadors and heads of international missions accredited in the country, to share with them his views on the Berlin summit and his expectations about the upcoming Paris meeting.
President Thaci said that he has welcomed the fact that Germany and France are once again focused on issues concerning Western Balkans and in particular, the process of dialogue between Kosovo and Serbia.
"I appreciate chancellor Merkel's good will and president Macron's insistence that issues concerning Western Balkans must advance", Thaci said.
Commenting on the Berlin summit, president Thaci said that "the Berlin meeting did not offer any new ideas regarding the possibility of reaching a new deal between Kosovo and Serbia".
The president also welcomed the demand that dialogue should continue in an effort to reach a peaceful agreement.
"We want an agreement which will preserve the multi-ethnic character of the country and society and also enable the country to be integrated in the EU and NATO", president Thaci said.
The head of the state said that the US, UK, Germany, France and Italy must take a unique stand with regards to this process.
"The past has shown that when there's been unity, Kosovo has moved forward", the president said.
Meanwhile, the president also commented on the upcoming Paris meeting, which has been scheduled to take place on 1 July.
"I hope that the Paris will be able to address concrete issues", Thaci said.
As far as obstacles in the process of dialogue with Serbia are concerned, the president said that "we will not allow dialogue to be conditioned by Serbia", adding that the tax imposed on Serbian imports will remain in force. /ibna/