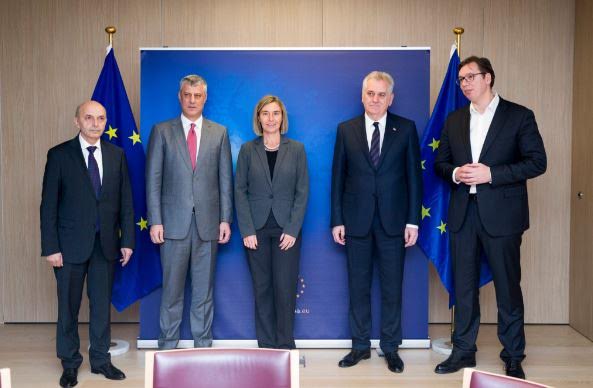 The meeting Kosovo's and Serbia's senior officials has ended in Brussels, but without any concrete decisions.
A press release issued by the office of the chief of EU diplomacy, Federica Mogherini, says that "the meeting was open and constructive and representatives of both sides talked about the developments of the recent days and agreed on leaving tension behind and focus on the future".
Mrs. Mogherini is quoted to have said that "progress in the process of the normalization of relations between Kosovo and Serbia is crucial for Kosovo and Serbia, for the European Union and the region in general".
Mogherini said that "she was impressed by the leadership, vision, dedication and commitment manifested by the sides in order to address matters of joint interest through the talks".
Both sides have agreed to intensify the talks in the days to come and to hold a number of high level meetings in the coming days.
Both sides considered the talks as very difficult, but important for the situation on the field.
President of Kosovo, Hashim Thaci said that this "was not an easy meeting, but necessary to reduce tensions between Kosovo and Serbia and also to discuss further steps to come up with agreements for the normalization of relations between Kosovo and Serbia and to enable a process which is in line with European standards and criteria".
He said that "after this meeting, Serbia will calm down and will stop its nationalist agenda toward Kosovo. Kosovo is a sovereign and independent state and it would a good thing for Serbia to recognize Kosovo as soon as possible".
Serbia's PM, Aleksandar vucic said that Tuesday's meeting has been one of the most difficult ones and that the sides agreed on continuing a number of high level meetings.
"We will make efforts to act responsible", Vucic said.
The Tuesday meeting followed tensions that were triggered by the fact that on 14 January, Kosovo halted a train that had departed from Belgrade to Mitrovica with the writing "Kosovo is Serbia" on it.
This was a cause for concern for mounting tension between the two countries. /balkaneu.com/