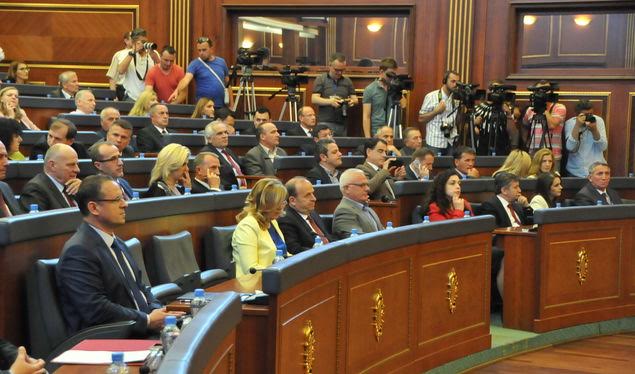 Pristina, 10 July 2015/Independent Balkan News Agency
By Elton Tota
With 61 votes in favor and 17 against, Kosovo's parliament approved today the proposal for the changes taking place in the 2015 budget.
The revised budget consists of around 49 million Euros worth of cuts in salaries, travel expenses and services and fuel.
Minister of Finance, Avdullah Hoti, said that 50 million Euros have been saved from the budget of Kosovo by revising the budget with the International Monetary Fund.
Hoti said that total revenues will be 1 billion and 535 million Euros or 52 million Euros less than the initial budget.
PM Isa Mustafa also commented on this budget revision, by saying that efforts have been made to adapt these changes to the current needs.
"We cannot meet our goals, but we have made efforts to restructure the budget and make it appropriate until the end of the year", Mustafa said.
Meanwhile, the opposition launched strong criticism about the revision of the budget through an accelerated procedure.
On behalf of Self Determination, Albin Kurti said that the revision of the budget does not change the fact that this is the same government as before.
"All of that campaign for new jobs, development of agriculture, production, etc, is not found in the budget", Kurti said. Mentioning the agreement with the IMF, Kurti said that borrowing in principle may be positive when it's used for development, production and progress, but when borrowing is used for survival or maintenance, it's not only bad, but it can become fatal.
AAK's MP, Donika Kada Bujupi said that with this revision shows that the government is incompetent.
"The governing coalition shows that it's not able and has no capacities to deliver its promises made during the election campaign", Bujupi said.
On behalf of the "Incentive" parliamentary group, Enver Hoti said that no objective is being met with this budget. /ibna/