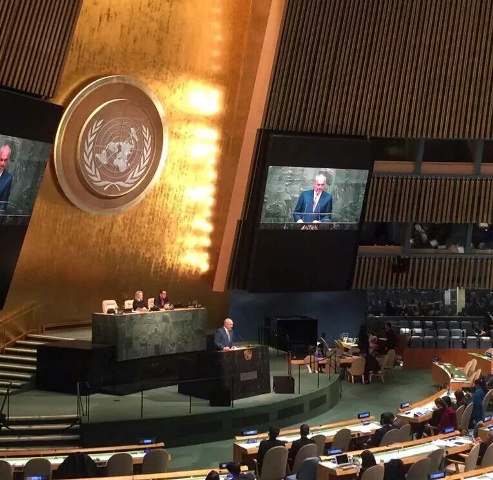 Tirana, 2 October 2015/Independent Balkan News Agency
Prime Minister of Albania, Edi Rama demands from United Nations member countries to recognize the state of Kosovo. Mr. Rama addressed this request today in the General Assembly of the United Nations, where he delivered a speech.
Rama made a description of the situation in the Balkan, saying that conflict and ethnic based violence are not unknown, adding that "however, we, as a region, can finally dare to show that there exists another way to move forward".
"For the first time last year, after hundreds of years of conflicts and frozen or active confrontations in the Balkans, no more weapons were pointed to any neighboring country. After a century full of conflicts, we finally had a year of collaboration to make this peace that was achieved, a peace worth living.
Rama said that "the talks between Serbia and Kosovo, a new state that contributes for the stability in the region, have led to both countries to find joint solutions on a number of issues which serve the interests of both people".
At this point, he launched an appeal: "Allow me to call upon all of those who have not recognized the state of Kosovo, to do this. By recognizing Kosovo, we offer a direct contribution in strengthening stability, peace, collaboration in a region which last year turned into a success story, filled with hopes and dreams for the future, which prevail over fear and anxiety of the past".
Kosovo proclaimed its independence on February 2008. Since then, over 100 world countries have recognized the Republic of Kosovo. Five EU countries are yet to recognized Kosovo: Greece, Cyprus, Spain, Slovakia and Romania. /ibna/