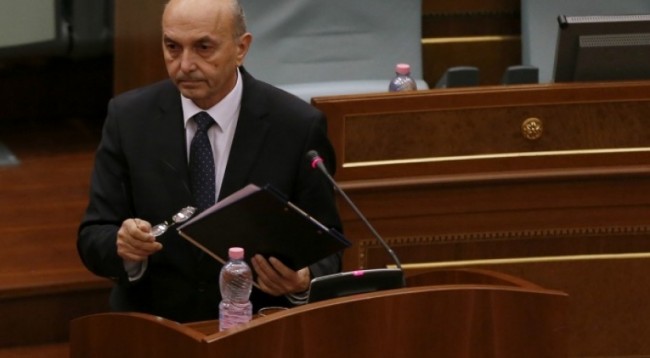 IBNA Special Report
Pristina, March 27, 2015/Independent Balkan News Agency
By Elton Tota
Today, parliament of Kosovo will hold a plenary session where Prime Minister Isa Mustafa will explain the constitutional responsibility of the Government of Kosovo in relation to the establishment of the Special Tribunal.
This session will be held upon the proposal of the parliamentary group of Self Determination, which has objected the foundation of this court.
They say that this court is being established in order to offer selective justice, because it will not try the Serbs that have committed crimes in Kosovo, but the Kosovo Liberation Army, in an attempt to tarnish the war of the people of Kosovo.
Self Determination also says that the court endangers the sovereignty of the national justice system.
Self Determination leader, Visar Imeri says that the Special Tribunal distorts the truth on Kosovo, because it's Serbia who has committed crimes and not KLA.
"We object this even in a legal aspect, due to the fact that it splits the justice system in half, by removing an important part of this system from the sovereign power of the institutions of Kosovo", he says.
Vice chairman of AAK, Ahmet Isufi says that today's reporting of PM Isa Mustafa will be very superficial.
"Mustafa will only demand for the court to be voted, but he will not have full information because he's not interested on having important information on this court. The opposition will have its positioning, by objecting it, while the PM will try to justify the government's position", he said.
He hopes that one day, MPs from the party in power will reflect in front of this injustice.
Minister of Justice, Hajredin Kuci says that it's within the right of MPs to decide how they will act in relation to the creation of the Special Tribunal.
Meanwhile, Kosovo analysts believe that no new detail will be revealed by the prime minister's reporting in relation to this issue.
Analyst Artan Muhaxhiri says that Kosovo cannot escape the formation of the Special Tribunal.
"In today's session, there will be a folkloric patriotism by the opposition, because in reality, the opposition is clear about the fact that the Court is a project that cannot be refused. But in general, they try to earn political points by objecting this process", he says.
Dren Doli from the Legal and Political Studies Group says that the formation of this court for Kosovo is unavoidable.
"I believe that this issue is very clear for every state in the world, especially for Kosovo, because this is how international relations work. Kosovo has agreed about this court and cannot escape to its international obligations", he says.
Yesterday, the high representative of the European Union, Federica Mogherini, demanded from Pristina to establish this institution as soon as possible. This was the first visit by Mogherini in Pristina after replacing on this post baroness Catherine Ashton. /ibna/