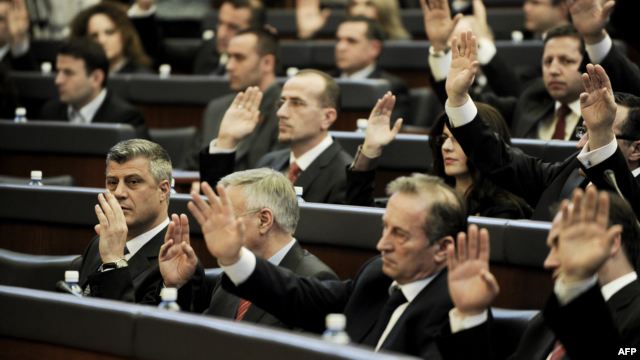 Pristina, December 30, 2014/Independent Balkan News Agency
By Elton Tota
After many debates between the majority and opposition, last night, parliament of Kosovo voted the 2015 budget.
In spite of the objections of the opposition, with 69 votes in favor, 20 against and 3 abstains, lawmakers approved the budget for next year.
Prime Minister of Kosovo, Isa Mustafa, promised that with this budget amounting to 1 billion and 576 million Euros, the government will make maximum efforts for the economic development of the country and increase the living standards for the citizens of Kosovo.
He said that economic growth for 2015 is expected to be 4%.
Meanwhile, the main topic that sparked debates was that relating to the increase of salaries.
PM Mustafa said that at the moment, it's impossible to increase salaries, but this will be revisited during the year.
"We will do maximum efforts to reduce tax evasion, fight corruption and increase the budget. We will do everything to increase revenues and then, jointly, we will decide on increasing salaries", said Mustafa.
Responding to MPs on the issue of the increase of salaries, Minister of Finance, Avdullah Hoti said that the government must also care about 300 unemployed people and not only about those who are employed.
Opposition MPs have criticized the budget. Self Determination MPs declared that the budget serves the interests of the parties in power and not of the country.
Self Determination MP, Albulena Haxhiu, who is head of the parliamentary law committee and also the Agency against Corruption, has criticized the government of reducing the budget for justice institutions.
"At a time when the justice system faces numerous problems, we have no increases of this budget, but we have cuts. As chair of the committee, I have expressed my complaints about the funds of the north, which is not in line with the Constitution of the Republic of Kosovo", Haxhiu said.
MPs of the Alliance for the Future of Kosovo have also expressed their complaints about the budget.
AAK lawmaker, Donika Kadaj-Bujupi said that there will be no salary increases with such budget.
"By not revisiting the increase of salaries, you confirm the continuation of corruption, informal economy and organized crime. If there are no investments, as you confirm it, it means that there won't even be new jobs", said AAK lawmaker.
The head of the Incentive for Kosovo, Fatmir Limaj, declared that he would not vote the budget, because according to him, this is the budget of poverty.
He said that none of the electoral promises is found in the budget of Kosovo.
According to him, this budget is a continuation of the last government, prepared by the last government. He said that this budget will deepen the crisis in Kosovo. Limaj said that Kosovo is entering 2015 with a budget that will impoverish people even more.
MPs of the Serb List left the proceedings at the very start, because they were not happy with the budget allocated for the Serbs in the north. /ibna/