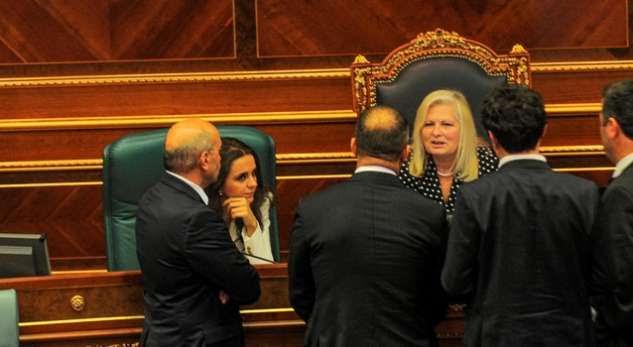 Pristina, 3 August 2015/Independent Balkan News Agency
By Elton Tota
The proposals fo the government of Kosovo to send to parliament once again the constitutional amendments that give way to the creation of the Special Tribunal for war crimes, will be voted today in parliament.
The government will attempt for the second time to vote the creation of the tribunal with 2/3 of the votes of MPs of all parliamentary parties.
PM Isa Mustafa says that this tribunal will give way to the integration of Kosovo in Euro Atlantic structures.
Meanwhile, three opposition political parties,  Self Determination, AAK and Incentive for Kosovo have considered this incentive as "death of democracy".
Experts of political affairs believe that the Special Tribunal will be given the green light today by government coalition MPs, otherwise, according to them the country may head to extraordinary elections.
Analyst and deputy editor in chief of "Zeri" newspaper, Lavdim Hamiti told IBNA that the government coalition has the necessary votes to finalize this process.
"The Special Tribunal will much likely be voted by the parliament of Kosovo on Monday. Deputy PM, Hashim Thaci has put a lot of pressure on PDK lawmakers. Two or three MPs may vote against, but this number doesn't prevent the approval, bearing in mind the votes in favor by LDK and minority communities", Hamiti says.
According to him, international community has blamed Thaci for the failure of the Special Tribunal.
"In the recent meetings that he has had with this parliamentary group, he's said to have threatened his MPs that they will have to leave the party should they not vote the tribunal. At the same time, if the country heads to early elections as a result of this failure, he will not make them part of the electoral list", he says.
Meanwhile, analyst Nexhmedin Spahiu told IBNA that if the tribunal is not voted, then this would be a catastrophe for Kosovo.
"This is the only way to prevent UN Security Council from deciding for the creation of the tribunal. Otherwise, the country may also hold early elections", Spahiu says.
Another political analyst, Florim Zeqa says that with the pressure of political parties in power and international community, it's more likely for the tribunal to be voted.
"The voting of the Special Tribunal will continue to hold them in power. Otherwise, the country may head to extraordinary elections", he says.
Zeqa says that this institution would not serve the interests of Kosovo.
"The clearest argument that the Special Tribunal is against Kosovo's interests is the fact that the Serb List and Serbia insist for the tribunal to be created by the parliament of Kosovo and not the UN", he added. /ibna/