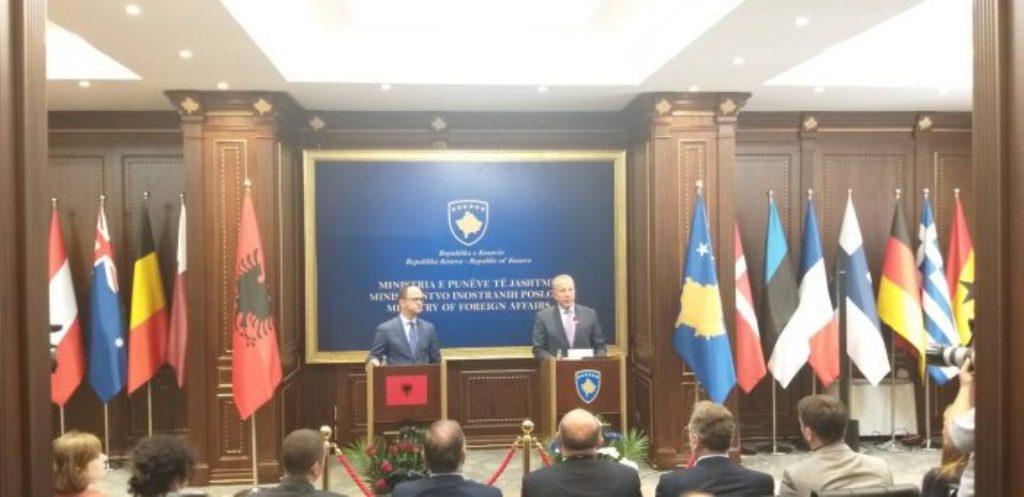 In November, governments of Kosovo and Albania will hold a joint meeting in the city of Pec. This was announced by Kosovo's Foreign minister, Behgjet Pacolli in a joint press conference delivered with his Albanian counterpart, Ditmir Bushati.
"We discussed on bilateral issues and the importance of good relations between Kosovo and Albania. Our relations are becoming stronger and stronger. In November we will hold a joint government meeting in the beautiful city of Pec", Pacolli said.
Minister Pacolli also talked about the progress of the talks being held with Serbia.
"The Albanian governments want to know how dialogue with Serbia is going and I informed him that although these are difficult talks, they should continue. I've asked the Albanian authorities to be more active in this process and be part of the dialogue. If the EU and US are part of these talks, why can't Albania be part of it too", Pacolli said.
On his part, minister Bushati said that Kosovo will always have Albania's support.
"The liberalisation of visas would put an end to an absurd isolation. Albania will continue to offer its support for several processes that Kosovo has launched. Today we were able to talk about our bilateral cooperation. Our two governments will gather in Pec and this will be an excellent opportunity to see what progress we've made and what we need to do", declared the Albanian minister, Ditmir Bushati.
Minister Bushati also said that Albania will provide constant support for Kosovo in the process of dialogue, regardless of who is in power there. /ibna/