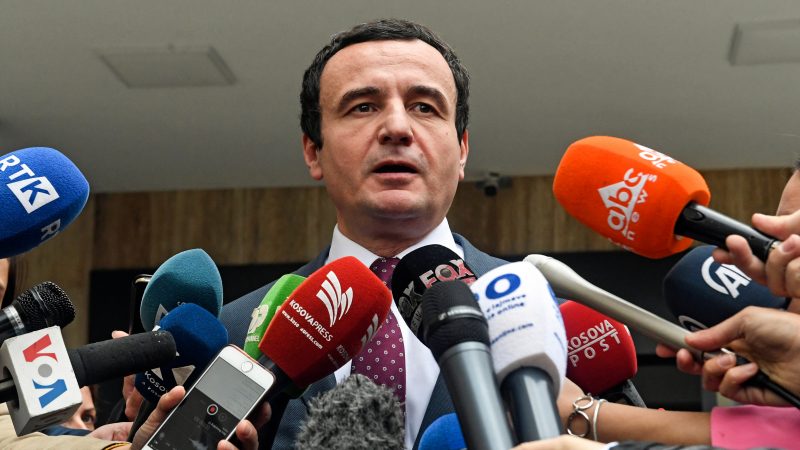 Belgrade must extradite Milan Radojicic, one of the suspects in the assassination of Kosovo Serb opposition politician in January 2018, adding "it's known who saw Oliver Ivanovic as a stone in a shoe and who liquidated him", Albin Kurti, the likely next Kosovo's prime minister said, but fell short of naming anyone.
In an interview with Podgorica's Pobjeda daily over the weekend, Kurti said that Ivanovic's murder "must be resolved, that all suspects and witnesses must be interviewed", reiterating that Belgrade had to extradite Radoicic.
Ivanovic was gunned down outside his office in the northern part of the divided Mitrovica town, mostly populated by local Serbs, on January 16 last year. Some two months ahead of the assassination, pro-regime media in Serbia branded him a traitor in a campaign for the local elections in Kosovo.
Commenting on the idea of the partition of Kosovo, Kurti said on Monday that Serbia's President Aleksandar Vucic wanted first to divide Kosovo, and then, together with Croatia, to split Bosnia and Herzegovina. "All of that would suit Russia, which would, after two failed coup attempts in Montenegro and North Macedonia, return in big style (to the region) with a new armed conflict between Serbia and Kosovo. That eventual conflict would not be localised", Kurti said.
He added that "there is no territory swap with bloodshed." Speaking about Kosovo's President Hashim Thaci, who he said held secret negotiations with Vucic, Kurti added he believed that Thaci's political career was closing to an end. "Thaci had two years for his, i.e., Vucic's idea on territory swap," Kurti said.
Regarding the resumption of the Belgrade – Pristina dialogue on the normalisation of relations, Kurti said Kosovo's priority would be "the talks about what had been implemented of the agreed deals so far", but reiterated that "dialogue with Brussels about the dialogue with Belgrade" was needed.
Srpska List attacks Kurti after he asked extradition of their deputy head wanted for murder
Deputy head of Srpska List, Igor Simic, has reacted to Vetevendosje leader Albin Kurti's statement who said that Belgrade must extradite to Kosovo Milan Radojicic, one of the suspects in the assassination of Kosovo Serb opposition politician Oliver Ivanovic in January 2018. According to Srpska List, with this statement Kurti is showing his true face.
"Heated anti-Serbian rhetoric continues in Pristina, even by those who want to be institutional leaders. Albin Kurti, with no evidence whatsoever is accusing Milan Radoicic and at the same time is directly interfering with the work of the judiciary. In his earlier statements he said that politicians should not interfere with the work of Justice", Simic said in a press release. He said that Kurti's attacks on their deputy head, Milan Radoicic, represent a violation of his basic right, the presumption of innocence.
Kosovo Serb leader Oliver Ivanovic was killed on 16 January 2018 in front of his political party offices. Kosovo State Prosecution has arrested four people suspected of being involved in this attack. Among the suspects is also deputy head of Srpska List, Milan Radojicic, who evaded justice and is being sheltered by Serbia./ibna