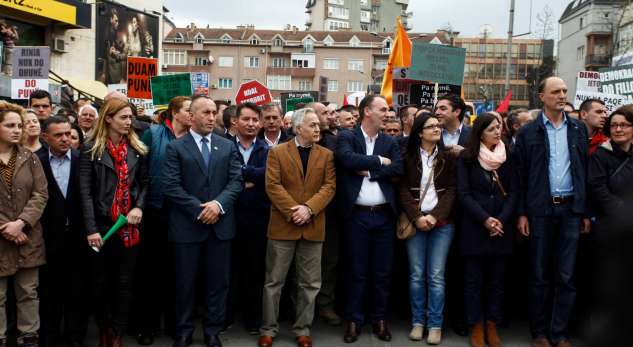 Pristina, 4 May 2015/Independent Balkan News Agency
By Elton Tota
Opposition in Kosovo says that it remains united against the government and warns fresh protests, because according to it, authorities are not reflecting in order to fulfill the demands articulated from the 18 April's protest.
Representatives of opposition parties warn that the government is expecting a difficult month, because according to it, massive protests will be held.
Alliance for the Future of Kosovo says that it will intensify its political action until the demands are met.
AAK says that the two week deadline for the government of Kosovo to start the implementation of demands coming out of the April 18 protest, has expired.
According to him, the government has once again ignored the demands of the citizens.
"The justice system continues to be controlled, the Constitutional Court continues to be under the claws of the governing coalition, 'Trepca' continues to have an unclear status, the management of RTK along with the chief judge of the Constitutional Court and minister of Justice continue to capture the state", Isufi says.
Leader of Self Determination, Visar Ymeri says that this government doesn't recognize the language of understanding, but only that of pressure. According to him, the government is interested in the life of the citizens.
'We continue to insist that the state must not be captured. We insist on a democratic environment in the Republic of Kosovo, of a space that guarantees the participation of the citizens in political decision making and economic welfare", Ymeri said.
All opposition parties say that they will continue to hold national protests soon, as the only instrument remaining to have their demands met.
Government spokesman, Arban Abrashi, issued a brief comment on the deadline issued by the opposition. Abrashi said that the government doesn't reply to ultimatums. /ibna/