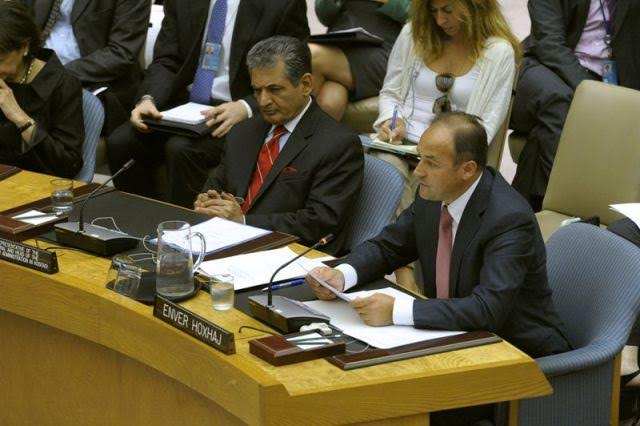 Pristina, 21 July 2016/Independent Balkan News Agency
By Elton Tota
Kosovo is planning to draft new strategies next year in order to bring Kosovo closer to the United Nations Organization, but experts say that the likelihood for immediate success is small.
Professor Nathan Miller from the Iowa University in the US, says that Kosovo is legally entitled to be placed in the UN list as a sovereign state.
"Kosovo may be placed in the UN list as a sovereign state and in fact, there's a way that this can be done legally. First of all, a request must be submitted for international cooperation and then follow other procedures. Even though it is not a UN member, Kosovo is entitled to adhere to many bilateral treaties", says professor Miller, who is staying in Pristina to help Kosovo authorities to become a member of international organizations.
The American professor admits that this will be a difficult task due to the fact that the decisions of the UN Security Council are taken unanimously.
Professor of international law, Vilhard Shala told IBNA that the path to UN accession is long and tiring.
"A state must apply for accession in the United Nations by sending a formal request to the Secretary General of the organization. The application then goes to the Security Council, where it must have the support of nine out of 15 members, with the condition that no permanent member with the right of veto votes against it", Shala says.
Shala says that if it passes, the Security Council recommends the application to the Assembly General, which with 2/3 of the votes of the members present in the meeting with the right to vote, approves the application for accession of the new state.
According to him,  Kosovo's request for UN accession may be successful only if China and Russia do not place a veto against this process.
"If the Security Council recommends the acceptance of a state, then two thirds of the votes of the UN Assembly General are necessary for the accession to be approved. This means that Kosovo must be backed by 129 out of 193 member countries of the UN", Shala says.
Kosovo's plans for UN accession have constantly been rejected by Belgrade.
Serb authorities have clearly said that they would not recognize independent Kosovo and will never allow its accession in the UN.
In issues concerning Kosovo, Serbia has been traditionally supported by Russia, a permanent member of the Security Council and as a result, it can use its influence in Moscow to block this process. /balkaneu.com/