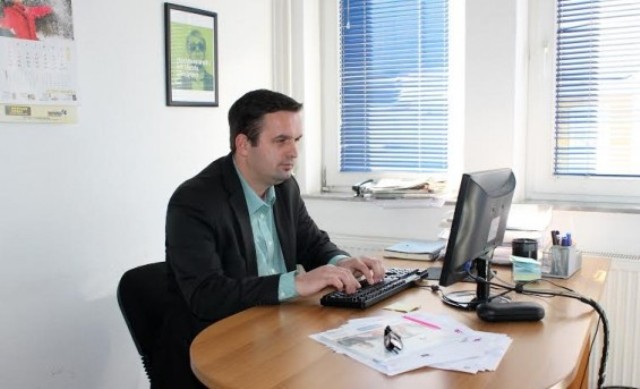 By Muamer Mellova
Today, former PM Hashim Thaci is a player with a secondary role in Kosovo's state policies. As chief of diplomacy and with many ambitions, he's aiming on raising the level of Kosovo's foreign policy, but this mission has merely turned him into a "pilgrim", who is not bringing something special to Kosovo; at least an important recognition, a hope for the liberalization of visas or any other benefits.
In these difficult times, the state of Kosovo needs to improve its image through diplomacy more than ever. Hashim Thaci is on the front line of this deed, but diplomacy is not a typical Albanian like diplomacy which is conducted in Kosovo and where Thaci has constantly been the challenger and the winner.
The leader of PDK, who leads the diplomacy of Kosovo, continues to be one of the most exposed ones on the media, reiterating his agenda combined with two or three priorities, such as the boosting of relations with neighboring countries, international recognition and the promotion of economic diplomacy, with the scope of attracting so-called foreign investors.
Days, weeks and months have gone by and we're seeing nothing from Thaci's diplomacy.
Desire for good neighboring relations
His sincere efforts for good neighboring relations failed since the very beginning. In Montenegro, he was received by protests, he was called a murderer, while he was only welcomed by those few Albanians remaining there.
The visit in FYROM and the meeting with PM Nikola Gruevski, was presented in the public opinion as successful. They talked about joint government meetings and boosting of investments along with coordination of activities for the European Union integration.
Like the Albanian leader in Skopje, Ali Ahmeti, Thaci too, wants to believe that with the current political circumstances in Macedonia, which is entirely oriented to Russia and Serbia, they can mount together the train toward Brussels.
The true Slav-Macedonian face was revealed after this visit. Some media called him a criminal, accusing him as leader of the organization that dealt with the trafficking of human organs, drugs and weapons.
Accusations that stem from Dick Marty's report. Meanwhile, a few months later, they accused Kosovo for a terrorist act in an quarter inhabited by Albanians in the city of Kumanovo.
The spokesman of the government, Ivo Kotevski declared that KLA leaders, who conducted the terrorist attack, come from Kosovo.
The scope was to deliver the Russian plan, according to which, Kosovo is a source of the destruction of peace in the region and beyond. Surprisingly, like never before, Moscow reacted on several occasions about this, in the same line as the government of Macedonia.
Dacic also issued declarations implying that he can come to Pristina as often as he likes for coffee, but his counterpart cannot do this in Belgrade. They even said that they would arrest him.
This man says that he has fought many battles, but he hasn't learned that the state must be strengthened from within and then conduct diplomacy.
The highly corrupt states, the economically weak states and the states that are problematic, are not respected by anybody. Perhaps, he and his friends should have thought of this earlier.
Economic diplomacy
At the start of his term in office, first deputy PM of Kosovo and Foreign Minister, Hashim Thaci, promised that he will go beyond the traditional foreign policies of Kosovo focusing on economic diplomacy.
He said that he will aim to put foreign diplomacy at the service of economic welfare of the citizens to encourage economic development and to open new jobs.
In spite of his declarations, according to polls, no citizen of Kosovo believed him and 10% of the population abandoned the country in search of a new life in western countries.
It's also been several months that no foreign investor has come forward to invest his capital in our country. This, due to the fact that foreign investors do not come in countries where there's massive corruption, lack of the rule of law, high interest rates, lack of electricity and many other problems. While he's conducting diplomacy, Thaci seems to be forgetting that Kosovo is being seen as a black hole for European investors.
International recognition
At the start of his term in office, Thaci's ambitions for international recognition were great. He even demanded recognition from Serbia. He warned recognition from 5 EU member countries. He visited several states and at the end, he achieved nothing, not even one recognition.
Even in this aspect, he showed lack of knowledge, lack of competence and a lack of an efficient strategy to deliver this objective.
However, we hope and pray that for as long as he's the head of the diplomacy of the country, something will change in this aspect, otherwise he will be remembered as the weakest foreign minister that Kosovo has ever had. His subordinates in these posts, have been more successful than him.
We all remember the leader of AKR, Behgjet Pacolli, who with his resources and his private plane, traveled in many continents and enabled new recognition. What did he take back as a reward from the society of Kosovo? He was mocked, underestimated and lowly defamation was told about him. This makes me believe that our society doesn't respect human values. Perhaps, it still wants to hear lies in electoral campaigns and believe them. The result: we are governed by them.
*The author is a publicist and head of the Organization for Regional Cooperation and European Integration
** The opinion of the author doesn't necessarily represent IBNA's editorial line