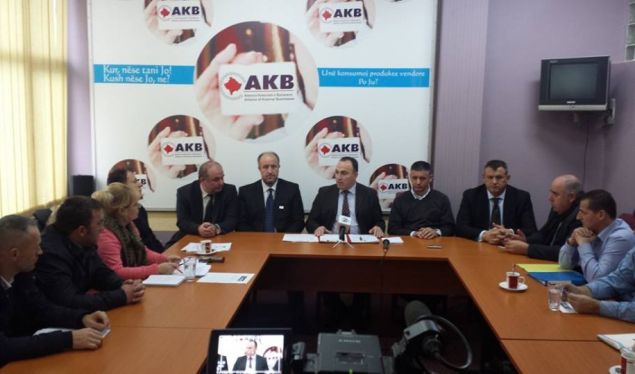 IBNA Special report
Pristina, December 11, 2014/Independent Balkan News Agency
By Elton Tota
Kosovo's Customs have decided to suspend and block imports and exports for 200 small and medium sized enterprises which have not paid their obligations to this institution.
Kosovo Business Alliance (KBA) and businesses have reacted against this unilateral decision, which risks the jobs of 6500 workers, 219 companies and 50 contracts with foreign and domestic businesses.
Agim Shahini, head of Kosovo's Business Alliance said that many of domestic and international businesses have received complaints about the suspension or blockage of imports and exports as of December 1.
"KBA believes that such decision taken by Kosovo's Customs is damaging for 219 companies from different sectors", said Shahini.
He called on the law to be respected by both businesses and customs' officials and until courts have dealt with complaints and cases that they receive, there mustn't be any suspension of imports or exports.
Head of KBA said that this suspension of activity can lead to the increase of the price of products.
On the other hand, this is also a pressure instrument in order to generate incomes for the budget.
"This suspension will create an unpleasant precedent for foreign investors, because many foreign companies have informed their embassies in our country on this", Shahini says.
Sylejman Klinaku, legal officer at KBA, demanded from Kosovo's Customs to revoke the decision to suspend imports from businesses, because irreparable damages are caused this way.
"Customs must find alternative ways and wait court decisions in order for businesses to continue their activity. We're not interested to evade taxes", Klinaku says.
Meanwhile, Ismet Rexhepi, owner of "Euro Goma" company, says that his activity was suspended as of December 1 of this year, because allegedly, his company has old debts amounting to 432 thousand Euros payable to the Customs of Kosovo.
"My company doesn't owe any debts to customs and this debt was invented without providing any arguments. After this, I made a complaint to Customs, where I was given two different verdicts, a negative one followed by a positive one and now, customs have suspended our products", Rexhepi says.
Rexhepi launches strong accusations against the management of customs. "Euro Goma" has been announced the second company in Pristina with no debts toward the state.
"Given that Customs of Kosovo ignore legal procedures and do not offer any argument about debts that we may have, I will file a lawsuit against them and someone must be held accountable for these irregularities", Ismet Rexhepi says.
Skender Guta, manager of "Beli euro fol" company, said that there have been problems with Customs for a while now and that imports and exports with Germany have been suspended for a year now.
He said that this company doesn't have any outstanding debts to customs, although customs claim that there's an outstanding debt of 105 thousand Euros.
"If no legal action is taken, we will be forced to close the plant and the 20 workers that we have will remain jobless and we will lose imports and exports with German investors. This is a bad thing for foreign investors", Guta says.
Burim Piraj, owner of "Meka" meat plant, demands from customs to offer concessions for businesses and not suspend their activity.
Hysni Zogaj, manager in the mine of Golesh, says that Customs of Kosovo have turned into a private enterprise and that if no interventions take place, then there will be consequences and problems. /ibna/