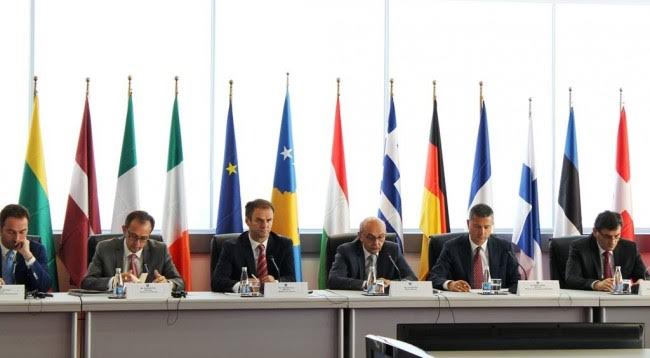 Pristina, 8 July 2015/Independent Balkan News Agency
By Elton Tota
The fifth plenary meeting on the Dialogue of the Process of Stabilization and Association was held today in Pristina. Present in this event were representatives of the government of Kosovo and the European Union.
At the start of this meeting, Prime Minister Isa Mustafa said that Kosovo has entered an important phase of European integration.
He said that the endorsement and the entry in force of the Stabilization and Association Agreement (SAA), is the foundation stone of the integration of Kosovo in the European Union, of the rule of law and economic development.
The head of the government said that the reform in the public administration, economic governance, competition and the rule of law, are decisive in the EU integration.
"To meet the objectives of economic governance and to secure EU dialogue, preparations have started for a national development strategy, which aims at addressing the main obstacles of economic growth and select those priorities that have an impact on economic growth", Mustafa said.
The head of the government also spoke of the visa liberalization process, for which he said that institutions of Kosovo have been very committed in meeting the criteria written down on the guideline for the liberalization and that a positive evaluation is now expected from the EU.
Meanwhile, head of Western Balkan Directorate at the European Commission, Jean Eric Paquet, has taken advantage of this meeting to express the concern of the European Union for the failure in the creation of the Special Tribunal.
"I want to use this opportunity to express our concern about the failure of parliament to approve the legislation that enables the creation of the Special Tribunal", Paquet said.
Paquet also expressed his concern about the lack of progress in the talks between Kosovo and Serbia, encouraging PM Mustafa to submit concrete solutions in the meetings with his Serb counterpart, Aleksandar Vucic, because this is vital for the normalization of relations.
As far as the visa liberalization is concerned, Paquet said that a European Commission team will arrive in Pristina to discuss the findings which will be published after Summer.
Meanwhile, minister of European Integration, Bekim collaku said that the endorsement of SAA will be the first step of establishing contractual relations with the EU and Kosovo's accession in the European Union.
"We're ahead of signing SAA and establishing a contractual relation and a clear perspective of the accession of the country in the EU. Kosovo will have many obligations as part of SAA. After the finalization of talks last year, government of Kosovo has taken a number of measures to implement SAA", Collaku said,
SAA is expected to be signed this summer and enter in force at the start of 2016. /ibna/