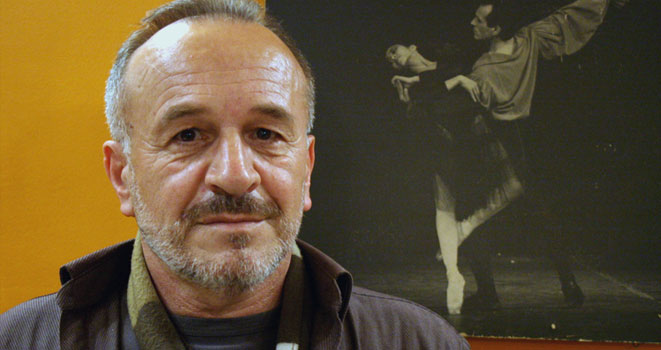 IBNA Interview/Kosovo's Ballet has been founded 40 years ago. In the recent years, it has seen development, but institutional ties with Albania are lacking. The director of Kosovo's Ballet, Ahmet Brahimaj, in an interview for balkaneu.com, talks about the work of the institution that he leads and relations with neighboring and international counterpart institutions. Mr. Brahimaj says that the Theater of Opera and Ballet of Tirana has been asked for assistance, but this assistance has not been provided. The paradox consists on the fact that the troop of the ballet of Kosovo has not yet performed in the Theater of the Opera and Ballet of Tirana. Brahimaj says that this deadlock exists only in the institutional point of view, because professional and social cooperation has been very tight.
Below you will find the interview that Mr. Brahimaj has given to IBNA's, journalist in Pristina, Tinka Kurti:
Kosovo's Ballet has been founded 40 years ago, what are its challenges?
Yes, Kosovo's Ballet has been founded in 1972, but our work has been suspended following the violent measures taken by Serbia in 1990. When we came back after the war, we, the old generation that dealt with art, approached Ballet. In 2001, I have participated in the last show as a ballet dancer. 2001 marked the arrival of a new generation of the Ballet of Kosovo after the fresh foundation of this branch. Four years later, in 2005, new ballet dancers were graduated and the majority of them are the main ballet dancers today in the artistic activities of the country. Up until recently, we have shared a budget with the National Theater, while today, we have a separate budget. There are many things that are lacking and which relate to the work and work conditions of the ballet dancers. Part of these problems are also the low wages, the lack of a special theater, changing rooms are in difficult conditions and the budget for shows is limited. Also, we are yet to see a choreographer from Kosovo who has put on a show on stage.
Has there been a choreograph before 2000?
Yes, there was a choreograph before the war. Abdyrrahman Ykshiqi has put on several shows on stage…
Let us stick a little bit to this. The ballet troop is active is very active in terms of shows, while there is no choreograph from Kosovo. How much of a problem is this?
Since 2001, we have put on 24 shows and for this, many good choreographers from many countries of the world have taken place. There have been choreographs from USA, France, Russia, Cuba, China, Holland, Bulgaria, Turkey, Italy and the special cooperation with choreographers from Albania have honored the ballet of Kosovo and the public in the country through their cooperation with our ballet troop. Their expenses are covered with the budget of the ballet, but sometimes, we are also helped by international offices which want to promote or support our art.
An analysis over the work of the Ballet of Kosovo for the year that is coming to an end, have you had results?
This year, we've put on 4 new shows, 4 premiers which have seen the contribution of international choreographers. In total we have held 54 shows. We have not cancelled any shows, in spite of the problems that we have faced. The shows that we have put on stage are: "There where the light falls" by choreographer Antonio Fini, "Kopelia" with the cooperation of Ilir Kerni, "My Freedom" by choreographer Israel Rodrigues and "Verdi Requiem" with the cooperation of Michel Mao.
Have you organized shows abroad?
We have participated in three festivals outside Kosovo, one in Skopje and one in Italy. Meanwhile, we have agreed for next year to be invited in the theater of Di San Carlo in Naples, Italy. Meanwhile, the directress of this theater, Alessandra Panzavolta will be the choreographer of the show of next year. All of these have been realized with a budget of 120 thousand Euros for 2013.
What do you consider to be the most important shows of the troop of the Ballet of Kosovo?
We have been very serious in everything that we have realized so far, following an artistic discipline where each of the ballet dancers and choreographers are committed. But, I think that it's very good for the theatre and the public to have put on stage world works of art such as: "Cermen", "Don Quixote", "Kopelia", etc.
What is the level of cooperation with the Ballet of Albania, with the artistic community and other cultural institutions of Albania?
I consider Tirana School of Ballet to be one of the best ones in Europe, which has produced many excellent professionals. We have always needed to cooperate with Tirana. We have contacted with them in 2001, when we were in the phase of recovery, but we didn't find understanding. Out troop is yet to perform in a show in the Theatre of Opera and Ballet in Tirana. But, this deadlock exists only in the institutional aspect, while professional and social cooperation has been very tight. We have participated in several festivals in Albania. We have cooperated with Albanian choreographers, but we haven't cooperated with ballet institutions. Four of the choreographers of some of our shows have been Albanian: Ilir Kerni, Gjergj Prevazi, Arton Iberhimi, Elton Cefa. We continue cooperation with them. Given that we have made efforts to put on a show in the Theatre of Opera and Ballet of Tirana, we hope that with the new leadership, this will be enabled as soon as possible, because both sides are willing to do this. Cooperation with them is necessary, especially because Tirana's School of Ballet has a traditional troop. I believe that there exists a mutual will for a more intensive cooperation. Nonetheless, we regret the fact that there's not been cooperation so far.
The construction of the Theatre and Opera has been promised years ago, but so far nothing has been done. How does the lack of a building affect the work of the Ballet of Kosovo?
Ballet has been founded in the building of the National Theater of Kosovo and given that there's imminent solution, it will remain here. This is a common house of drama and ballet. We will continue our work in this theater, but if the Theatre of Opera and Ballet is built, I believe that ballet can be better developed. But, the problem is that this theatre is used for things other than drama and ballet. People are used to see many things happening in the theater…all kinds of promotions, commemorations and films, although this theater is not suited for these purposes. Under these circumstances, these spaces are tight, changing rooms are not functional, offices are old, heating is lacking sometimes and the theater doesn't meet the minimum conditions neither for ballet, nor for drama.
Interviewed by Tinka Kurti