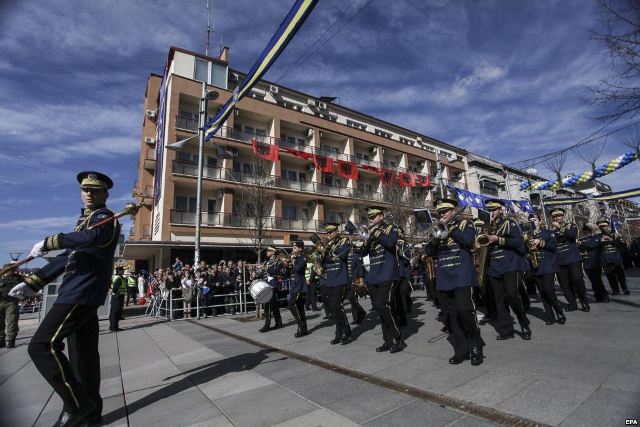 Pristina, 30 December 2015/Independent Balkan News Agency
By Elton Tota
Even in 2015, Republic of Kosovo remained without an Army. The creation of Kosovo Armed Forces (FAK), was prevented by Serb political parties, without the votes of whom it was impossible to finalize this process.
Representatives from the Serb List in the institutions of Kosovo give assurances that they will not vote in favor of the constitutional amendments which would give way to the creation of Armed Forces in Kosovo.
Dalibor Jevtic, minister for Communities and Returns at the government of Kosovo, from the ranks of the Serb List, says that the representatives of this List in the Parliament of Kosovo do not intend on supporting such incentive.
"We don't back such incentive. If we were ready to back it, then it would be on the agenda of the parliament of Kosovo".
Head of the Security Study Center in Kosovo, Florian Qehaja, told IBNA that the stance of Serb parties is in line with Serbia's vision which aims at stopping the creation of key institutions in Kosovo.
"Serbia's stance in relation to the creation of FAK is political and is not based in any threat or risk assessment. I personally believe that the process of the approval of constitutional amendments for FAK is very difficult, given that political subjects do not want to involve the international community to put pressure on Belgrade and the Serb List. Thus, I believe that the approval of the Association of Serb Communes should be conditioned with the approval of FAK", Qehaja says.
Nuredin Ibishi, member of the Parliamentary Committee for Home Affairs, Security and Monitoring of Kosovo Security Forces, praises the will of the government of Kosovo, but also of Albanian MPs and other minorities, except for the Serb List, to approve constitutional amendments for the creation of the Armed Forces of Kosovo.
According to him, the situation continues to be complicated due to the influence of Belgrade on the Serb List, to prevent the creation of this force.
Ibishi says that the Serb List has complicated this issue even more, due to the problems appearing with the creation of the Association of Serb Communes.
Armed Forces of Kosovo will replace Kosovo Security Forces, which have intervention powers in emergency situations rather than military powers.
Also, the Armed Forces can only be set up upon NATO supervision with a particular number of soldiers and weapons and equipment agreed with NATO.
However, an agreement should be reached with the Serb List because this party currently represents the majority of the Serb community in Parliament and the government of Kosovo. /ibna/