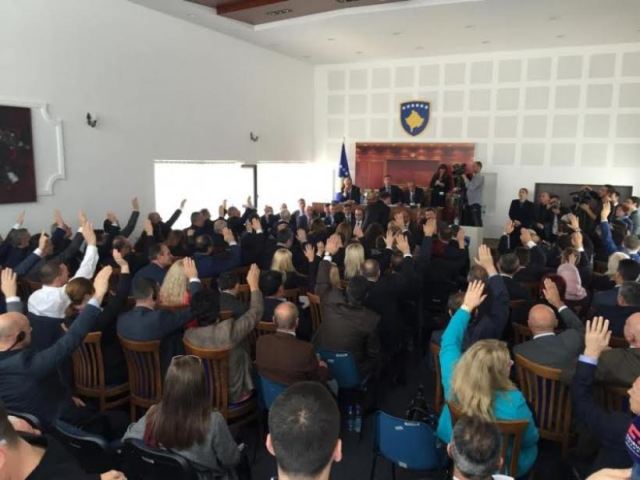 Pristina, 17 November 2015/Independent Balkan News Agency
By Elton Tota
With 71 votes in favor and 1 vote against, parliament of Kosovo has approved in an extraordinary session next year's budget. This session was held in an improvised hall on the third floor of the house of parliament.
The approval of the budge took place under extraordinary circumstances, because since the start of the session, the opposition let off tear gas and blocked the proceedings.
Majority leaders, Isa Mustafa and Hashim Thaci considered the opposition's actions as criminal acts. They said that this situation can no longer be tolerated.
Presenting next year's budget, Mustafa said that the value of this budget will be 2 billion euros.
During his speech in the improvised hall, Mustafa said that he demands form MPs to back the budget.
"I shall accept all proposals and complaints made by MPs and we will try to incorporate them in the budget", Mustafa said.
"There's a chance that based on the agreement with the International Monetary Fund, we make interventions for capital investments and secure a foreign loan. The bill on the budget is one of the most important decisions that governments and parliament take", Mustafa added.
Kosovo's deputy PM, Hashim Thaci said that the opposition's actions will confront the law, adding that their only argument to seize power is violence.
"They can forget power. The elections will take place in 2018, but they can forget power even then, because they will not manage to seize it with these actions. The opposition in Kosovo wants to cause turmoil and they are following an agenda against the state and against the west", he said.
US ambassador to Kosovo, Greg Delawie has praised MPs, for which he said that they worked for the citizens of Kosovo in spite of the tear gas.
"I'm proud of working alongside the MPs of Kosovo, who have been elected in a democratic way and who defeat teargas, in order to serve to the people of Kosovo", said ambassador Delawie.
Meanwhile, the opposition said that this session was not lawful and that a police state is being installed.
Meanwhile, a large number of protesters gathered in front of parliament, but they were dispersed by police. /ibna/