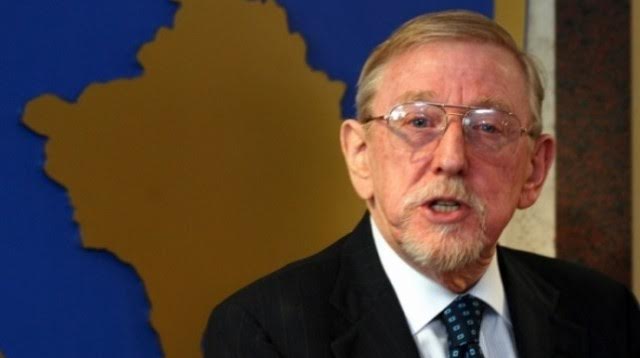 Pristina, 15 January 2015/Independent Balkan News Agency
By Elton Tota
Former OSCE ambassador for the period 1998-1999 to Kosovo, William Walker, says that Kosovo is moving forward in the wrong path.
"Kosovo must change the generations that lead the country politically. I don't think that Kosovo can solve the numerous problems and challenges with the current political class", declared Walker after a meeting with representatives of Self Determination Party in Pristina.
Walker said that he supports the protests being held in Kosovo, but not the violent ones that have been recently seen.
"In the US too, we protest all the time. I don't want to say that I admire them [the protests], but if they are a cause to take on to the streets and raise the voice, then I believe that they are a good thing. But if it's exaggerated, as it was the case recently, then this problem must be solved [violence in the protest]", Walker said.
The US diplomat is staying in Kosovo on the occasion of the 17th anniversary of the massacre of Recak. It was Walker the one who on 15 January 1999 said that what happened in this village was a crime against humanity.
His declaration raised the awareness of the international community to intervene in Kosovo and put an end to Milosevic's regime.
After around 2 months from the massacre of Recak, NATO launched its air strikes against Serbia which lasted 78 days.
Meanwhile, former Yugoslav president, Slobodan Milosevic was accused by the Hague Tribunal for crimes against humanity in Kosovo, including the massacre of Recak, but he died in prison unexpectedly before the end of the trial. /ibna/