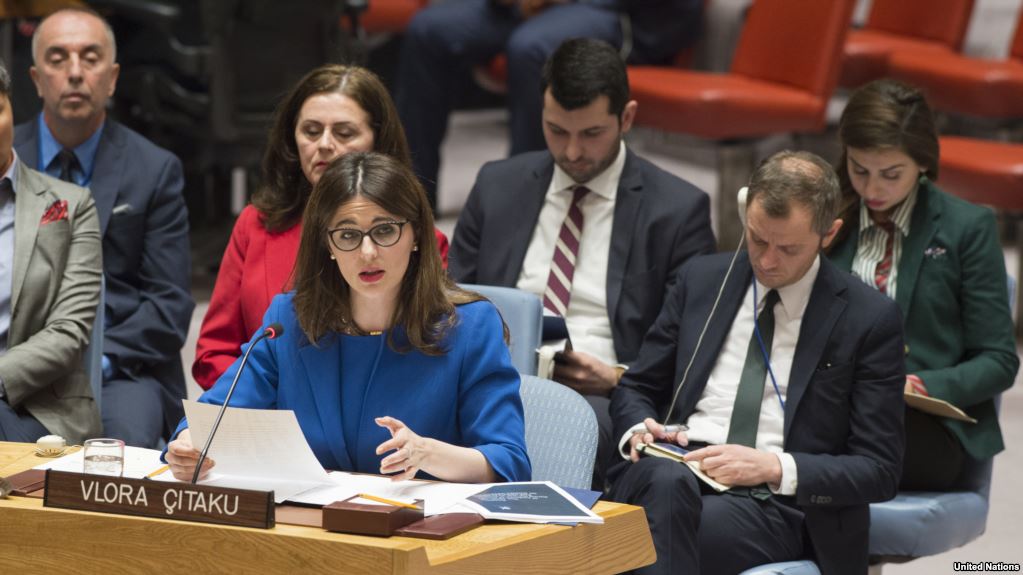 Kosovo's ambassador to Washington, Vlora Çitaku has expressed her conviction that Kosovo will soon establish diplomatic relations with Serbia.
In her speech before the UN Security Council, Çitaku said that those who have doubts about the legitimacy of the independence of Kosovo, should read the verdict of the International Court of Justice.
"It's true that Kosovo is a young state, but we're a very old nation. We have always been there. We're very proud of the alliances that we have with all of you and I hope that Kosovo will soon establish diplomatic relations with  Serbia", Çitaku said.
The Kosovan diplomat said that her country is aiming to completely normalize relations with neighboring Serbia.
"Kosovo is committed to normalize relations with Serbia. We're committed for dialogue and to promote good relations and to strengthen peace and stability in the Western Balkan region", Çitaku said.
The Serbian top diplomat, Ivica Dacic, has expressed his concern about the requests made by several UN member countries to suspend the sessions of the Security Council on Kosovo and removing UNMIK mission from the country, saying that the situation in Kosovo continues to be fragile.
"Dialogue is the only way for sustainable dialogue and dialogue should continue. The Security Council should help in finding a solution and this is important for the whole region. The requests to change UNMIK's mandate do not help in achieving these goals", he said.
Dacic has also referred to the quarterly report of the UN Secretary General, saying that the murder of the Serb leader Oliver Ivanovic was shocking and that the murderers have not yet been brought to justice, although authorities in Pristina had pledged that everything would be done to shed light on this case. /ibna/