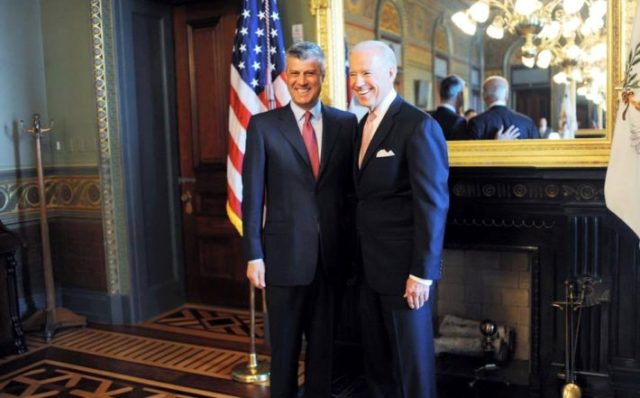 Pristina, 16 August 2016 /Independent Balkan News Agency
By Elton Tota
American Vice president Joe Biden will stay today in Kosovo to meet with the leaders of the new state.
The highest American official is expected to push Pristina to speed up the normalization of relations between Belgrade and Kosovo, and also to give priority to the issues concerning Euro Atlantic processes.
Kosovo state leader are enthusiastic about Biden's visit, while the analysts guess the messages Biden is likely to convey in Kosovo.
Kosovo president Hashim Thaçi says : "The visit of Kosovo friend marks a new and historic moment for Kosovo. Mr. Biden has been committed for 26 years to provide peace and stability in our region. Kosovo people are proud for the friend who since the beginning of the '90s became the hope and the strong voice for Kosovo freedom and independence in Washington D.C. The friendship between Kosovo and USA is eternal."
Kosovo Prime Minister Isa Mustafa has also described this visit as an extraordinary event.
"The visit of the second most important man of worldwide democracy is an important and exceptional event for Kosovo Republic", he said.
Whereas, the professor of international law, Vilhard Shala says for IBNA that Biden's visit demonstrate USA support for Kosovo and Balkans in general.
"This visit is a clear indicator that the future of Kosovo must not have dilemmas, neither political nor security ones. The messages that Kosovo Republic may receive will serve to an easier overcome of challenges in its foreign policy and security. The visit is also a clear signal of a speed up the transit toward a new era of relations in the region."
Kosovo is an important part of Western Balkans and Europe and its issues must be solved not separately, but in relation to each other", said Dr. Shala.
Kosovo is currently experiencing a tense period due to the disputes around demarcation border agreement with Montenegro. This issue may be part of Biden agenda in Pristina, along with the  fight against violent extremism as a global challenge and also organized crime and corruption.
On Wednesday, Vice President Biden will participate in the ceremony of naming after his late son, Joseph "Beau" Biden, a road leading